Three Lake Tahoe ski resorts are reporting 4 feet of new snow from two recent storms.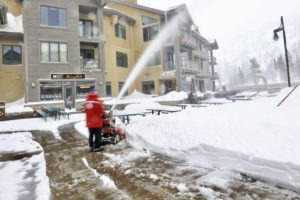 A pair of snow storms have rocked Tahoe ski resorts, the first one starting Saturday afternoon (Jan. 5) and the second one pummeling the resorts even harder one day later.
A few inches fell at many Tahoe ski resorts Monday and a similar amount may come Tuesday (Jan. 8). A third storm, that doesn't appear as powerful as the first two, should begin Tuesday evening, bringing perhaps another powder day for skiers and snowboarders.
Squaw Valley, Boreal Mountain and Soda Springs were all reporting 4 feet of new snow over the two-day period. Both Boreal Mountain and Soda Springs received 24 inches from the first storm and 24 more from the second one. Squaw Valley added to its total with 20 inches of new snow by Monday morning.
However, none of the three resorts could match Diamond Peak. The family-friendly resort in Incline Village reported 30 inches of snow Monday morning from the second storm. That brought Diamond Peak's two-day snow total to 3 feet.
Another smaller Tahoe ski resort – Homewood Mountain – was reporting 24 inches of new snow Monday morning and 40 inches for the 48-hour period.
All three Vail Resorts in Lake Tahoe had sizable snowfall. Northstar California had the most snow in the 48-hour period with 42 inches, followed by Kirkwood Mountain (32) and Heavenly Mountain (18).
For all the Tahoe ski resort snow totals, see the Snow Report (below).
According to Bryan Allegretto, OpenSnow California Snow Forecaster, the next storm will move in by Tuesday evening and continue into Wednesday at around 7,000 feet. He is predicting 1-7 inches of snow and heavy winds both Tuesday and Wednesday.
Thursday appears the best day of the week for skiing and riding. Allegretto is predicting some sun and lighter winds for Thursday with temperatures in the high 30's.  The clouds and winds will begin to increase again on Friday ahead of the next storm.
Allegretto says "over the weekend we have splitting systems moving in Friday and Saturday nights.  The Friday system looks to bring more wind than snow. We may only see a coating to 1 inch. Then Saturday night into Sunday the storm could hold together enough to bring several inches of snow."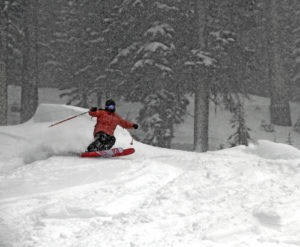 He believes there could be another storm or two from the Jan. 14-17, followed by a drier pattern building over the West Coast, starting Jan. 18.
SNOW REPORT (reported Monday morning, Jan. 7)
Alpine Meadows: 16 inches
Boreal Mountain: 24 inches
Diamond Peak: 30 inches
Heavenly Mountain: 12 inches
Granlibakken: 6 inches
Homewood Mountain: 16 inches
Kirkwood Mountain: 21 inches
Mt. Rose: 12 inches
Northstar California: 26 inches
Sierra-at-Tahoe: 14 inches
Soda Springs: 24 inches
Squaw Valley: 20 inches
Sugar Bowl: 18 inches
Tahoe Donner: 20 inches