Unlike the previous year, there will be lots of opportunities to ski and snowboard over the Thanksgiving holiday in Lake Tahoe.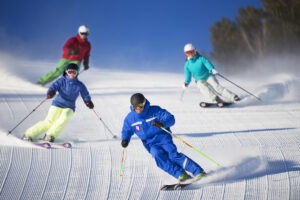 Six Tahoe ski resorts will be open Thanksgiving Day and two more will be running lifts for the first time on Friday (Nov. 25). See TAHOE SKI RESORT OPENING DATES below.
Thanks to a sizable storm that hit the Tahoe region in early November, local ski resorts took advantage of the snow totals to open. Mt. Rose and Boreal opened Nov. 11 and one day later, the three Vail Resorts in Tahoe – Kirkwood, Northstar, Heavenly – began running lifts. Last weekend Palisades Tahoe kicked off its 2022-23 season.
"Snow has most definitely changed our (opening day) plans," a Palisades website blog stated prior to opening. "Not only will we be opening four days early, but we'll be opening with upper mountain terrain."
SUGAR BOWL OPENING: Located off Interstate 80 at the Norden exit, Sugar Bowl is the closest resort to the Sacramento region. The resort is reporting nearly 3 feet of natural snowfall combined with its snowmaking efforts. For the opener Friday (Nov. 25), Sugar Bowl will offer a large selection of terrain accessed via the following lifts.
AVAILABLE LIFTS
Jerome Hill Express
Mt. Lincoln Express
Christmas Tree Express
Nob Hill
White Pine
Flume Moving Carpet
Village Gondola

Boreal Mountain was the only Tahoe ski resort that was open for skiing and riding during the Thanksgiving holidays.
NO SKIING LAST THANKSGIVING: There were no Tahoe ski resorts open for skiing or snowboarding last Thanksgiving. Boreal did open one day later with a lone lift serving a decent crowd of skiers and riders. Among the Tahoe region's 14 ski resorts there was a combined one legitimate lift open at Boreal before snow arrived the second week of December.
One could thank Mother Nature for the barren slopes. There was a promising snowfall in late October 2021, allowing both Palisades Tahoe and Boreal to open prematurely on Oct. 29. However, rising temperatures and rain over the Donner summit halted skiing at both resorts following the Halloween weekend.
Tahoe ski resorts have been dependent for more than a decade on snowmaking for the bulk of its early-season snow. But last year nightly temperatures didn't drop low enough to warrant regular snowmaking. That's in contrast to this year when more seasonably normal weather has allowed snowmaking to operate at multiple Tahoe ski resorts.
TAHOE SKI RESORT OPENING DATES
Mt. Rose: Open Nov. 11
Boreal: Open Nov. 11
Northstar: Open Nov. 12
Heavenly: Open Nov. 12
Kirkwood: Open Nov. 12
Palisades: Open Nov. 18
Sugar Bowl: Nov. 25
Soda Springs: Nov. 25
Sierra-at-Tahoe: Dec. 3
Diamond Peak: Dec. 8
Tahoe Donner: Dec. 9
Homewood: Dec. 16
Granlibakken: Dec. 18