Lake Tahoe products David Wise and Maddie Bowman will be returning to the Winter Olympics.
The pair won their first Olympic ski halfpipe gold medals in Sochi at the 2014 Winter Olympics. On Friday, they became the first U.S. halfpipe skiers to qualify for the 2018 Winter Olympics in PyeongChang.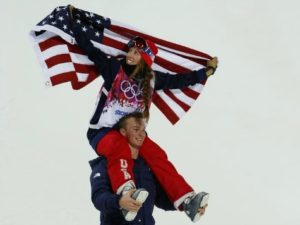 A colorful snowboarder from South Lake Tahoe who calls Sierra-at-Tahoe home, Bowman will attempt a repeat. At the 2014 Winter Olympics in Sochi, Bowman made history, becoming the first Olympic gold medalist in women's halfpipe skiing.
Bowman qualified for PyeongChang on Friday after the Toyota U.S. Grand Prix at Snowmass in Colorado, which served as the fourth of five Olympic qualifying stops for women's halfpipe skiing. She placed second in the first qualifying event at Mammoth Mountain.
Bowman then placed fifth at the Toyota U.S. Grand Prix in Copper Mountain and third at the Dew Tour in Breckenridge, which secured the second podium she needed in the selection events.
Bowman, known for her technical prowess, was one of two U.S. women who had the opportunity to solidify their place on the 2018 U.S. Olympic Team in Friday's competition.
Since halfpipe skiing made its Olympic debut in 2014, the sport has continued to grow, and Bowman has remained among the best of the best. She has won four X Games medals, including two golds, since Sochi and finished fifth at the 2017 world championships
Wise, 27, went three years between victories when he won an Olympic qualifier last month, according to TeamUSA.org. Wise became the first freeskier to qualify for the U.S. Olympic team in halfpipe after winning the U.S. Grand Prix at Snowmass.
A Reno native and the father of two children struggled last season with a back injury and concussion, but now looks like an Olympic medal favorite again.
In Sochi, Wise became the first Olympic gold medalist in men's halfpipe skiing and will attempt to make history again by defending that gold medal.