Gazing at the stars can be a cool evening activity for the entire family, thanks to Tahoe Star Tours.
Visitors to North Lake Tahoe and Truckee interested in a unique, educational evening under the night sky are invited to snowshoeing with stargazing or participate in one of Tahoe Star Tours' new Stars & S'mores sessions at Ritz-Carlton, Lake Tahoe.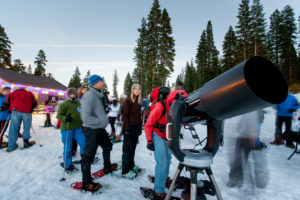 Both Tahoe Star Tours events are led by local astronomer Tony Berendsen. They are geared toward guests ages 10-above and offer an extraordinary opportunity to enjoy the magic and wonder of the stars in the winter sky.
"The combination of snowshoeing and stargazing creates a really special winter experience in the mountains," said Tony Berendsen, owner and operator of Tahoe Star Tours. "Not only do you witness the stunning silhouettes of the trees as the sun goes down, you're treated to the majesty of the night sky as the stars reveal themselves."
Every Tahoe Star Tours event includes a laser tour of the night sky and the opportunity to view constellations through high-powered, professional telescopes manufactured by Celestron, the world's leading telescope manufacturer. The telescopes use leading edge computerized technology enabling sharp, accurate pointing and tracking, with optics for clear, clean images.
Guests are encouraged to wear warm clothing for all events, and sturdy shoes for the snowshoe stargazing events. For more information, visit www.TahoeStarTours.com.
Snowshoe Stargazing at Northstar California Resort: The tours are approximately 2-2½ hours in length, and meet at 5 p.m. at Northstar California Resort's Cross Country, Telemark & Snowshoe Center. The scheduled dates are January 13, February 17, March 10 and April 14.
Each snowshoe stargazing tour features a lively science-based talk about the cosmos, a poetry reading by Berendsen, and telescopic viewing of the stars. Guests will also enjoy an easy to moderate snowshoe walk with an unobstructed view of the cosmos, followed by telescopic viewing of the night sky.
Tickets are available for $66 for guests ages 13-above, and $47 for kids ages 10-12. Snowshoe rentals are available for an additional fee. Prices exclude Eventbrite reservation fees. Reservations are recommended, and can be made online at www.NorthstarCalifornia.com.
Snowshoe Stargazing with Tahoe Adventure Company: Tahoe Adventure Company has also partnered with Tahoe Star Tours to offer snowshoe stargazing tours on Lake Tahoe's north shore. Participants will enjoy a guided snowshoe walk through the forest, followed by telescopic viewing led by the Tahoe Star Tours father and son team.
Events scheduled in North Lake Tahoe with Tahoe Adventure Company will take place January 6, February 18 and March 9.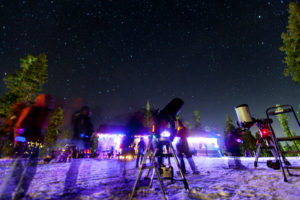 The cost to participate is $85 per person and includes snowshoe rental, snacks and refreshments. Advance reservations are recommended and can be made online at www.TahoeAdventureCompany.com.
Stars & S'mores at The Ritz-Carlton, Lake Tahoe: Tahoe Star Tours has also begun a "Stars & S'mores" program at The Ritz-Carlton, Lake Tahoe this winter. Participants are invited to meet at the resort's Fireside Terrace for an engaging fireside astronomy session that includes a science-based conversation about the cosmos, poetry reading, and telescopic viewing with Celestron telescopes, followed by s'mores around the resort's outdoor fire pit.
These event runs from 7-8:30 p.m. on January 12, February 23 and March 16.
The cost to participate is $45 per person. Advance reservations are recommended and can be made online at www.TahoeStarTours.com.