Cold temperatures and snow returned Monday at Tahoe ski resorts, which received up to 9 inches of new snow from the storm.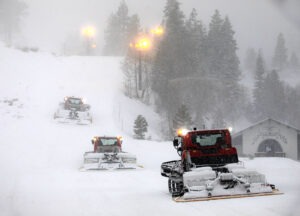 Both Palisades Tahoe and Sugar Bowl were reporting 9 inches of snow Tuesday morning. The storm brings the Palisades season snowfall total to 317 inches and Sugar Bowl is close behind with 313.
"Winter isn't quite over yet in the Sierra. We anticipate plenty of fresh tracks for skiers and riders on the mountain today," Palisades spokesperson Kat Walton said.
TAHOE SKI RESORT SNOW TOTALS, CLOSING DATES BELOW
Boreal Mountain received 8 inches of new snow, while Mt. Rose, Heavenly, Kirkwood and Soda Springs got 7 inches.
The snow arrived one day after four Tahoe ski resorts – Homewood, Diamond Peak, Tahoe Donner, Sierra-at-Tahoe – closed for the season Sunday. Six other Tahoe ski resorts are expected to shut down for the season Sunday, April 17.
MORE SNOW THIS WEEK: The National Weather Service (NWS) in Reno says there's a chance of rain or snow every day between Tuesday and the weekend,
"A growing number of simulations are showing a warmer weather system reaching the Sierra by Saturday with rain/snow lines above 6,000 feet," the NWS reports. "Though there are simulations that build a ridge over the western US, current guidance favors any snow impacts to the Sierra above 6,000 feet."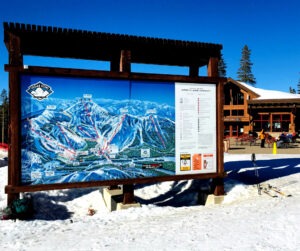 Tuesday will be mostly sunny, with highs around 33. Winds will be 5 to 10 mph, with 25 mph gusts possible. There's a chance of snow showers in the evening, when lows will dip to 16.
There's a 20% chance of snow showers Wednesday. Another 1 to 2 inches of accumulation is possible Thursday, with an additional inch that night. Scattered showers are forecast Friday morning, followed by rain and snow showers from 11 a.m. to 2 p.m.
TAHOE SKI RESORT SNOW TOTALS, CLOSING DATES
Sugar Bowl: 9 inches, April 17
Palisades: 9 inches, May 1
Boreal: 8 inches, April 17
Mt. Rose: 7 inches, April 17
Soda Springs: 7 inches, April 17
Heavenly: 7 inches, April 24
Kirkwood: 7 inches, May 1
Alpine Meadows: 6 inches, May 1
Northstar: 5 inches, April 17
Granlibakken: NA, April 17
Tahoe Donner: Closed April 10
Diamond Peak: Closed April 10
Sierra-at-Tahoe: Closed April 10
Homewood: Closed April 10