The first of three anticipated snow storms delivered 2 feet of snow Saturday at several Lake Tahoe ski resorts.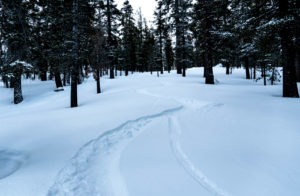 A couple of smaller Tahoe ski resorts – Boreal Mountain, Soda Springs – were the big winners with 24 inches of snow reported Sunday morning (Jan. 6). Squaw Valley had19 inches of new snow, Northstar California and Homewood Mountain received 16 inches, and Sugar Bowl had 15 inches.
Among the 14 Tahoe ski resorts, 11 of them were reporting 10 or more inches of snow Sunday morning. For all the Tahoe ski resort snow totals, see the Snow Report (below). More snow is dropping Sunday and will continue to pile up for skiing and snowboarding.
Saturday was only the first of three storms scheduled to hit Tahoe ski resorts this week. The second one starts today and could deliver even a larger wallop. Squaw Valley Alpine Meadows says it could get 2 to 3 feet of new snow on its upper mountains by Monday morning.
A series of storms over the five-day period ending Wednesday (Jan. 9) could dump 2-4 feet of new snow on Tahoe ski resorts.
According to Bryan Allegretto, OpenSnow California Snow Forecaster, the storms will not just be hitting the Lake Tahoe region. They will be impacting Northern California counties like Lassen all the way down to the eastern side of Southern California.
Although there will be plenty of snow and powder days this week for skiing and snowboarding, note that high winds will likely persist at many Tahoe ski resorts, who could be shutting down lifts as a safety precaution. The snow and high winds are not expected to subside until Thursday. The Sierra Avalanche Center issued a warning Sunday stating "considerable avalanche danger" is present at all elevations.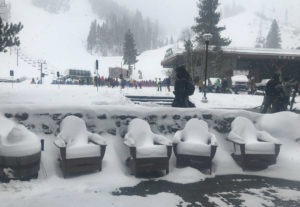 Lake Tahoe ski resorts that are more wind protected include Northstar California, Sierra-at-Tahoe, Homewood Mountain, Diamond Peak, and the lower mountain at Sugar Bowl and Alpine Meadows.
Allegretto says there will be three storm systems. Click here to see a video of Allegretto discussing the storm systems with Kevin Cooper from Lake Tahoe TV.
Allegretto says a second storm system will be moving in Sunday afternoon, bringing more heavy snowfall. The warmer weather will have snow levels rising to 6,500 feet on Monday. This second storm could bring an additional 6-22 inches of snow on the mountains by Monday evening, and 2-10 inches at lake level.
Following a break in the weather early Tuesday (Jan. 8), a third storm starts that evening and snowfall will be at lake level by Wednesday. Allegretto is predicting 2-14 inches of snow on the mountains, where strong winds should continue.
The snow and high winds are expected to subside by Thursday (Jan. 10), which could be a fantastic powder day for skiers and riders.
Allegretto says the next storm could move in around Jan. 13-14 with a drier pattern possible after that.
SNOW REPORT (reported Sunday morning, Jan. 6)
Alpine Meadows: 12 inches
Boreal Mountain: 24 inches
Diamond Peak: 6 inches
Heavenly Mountain: 6 inches
Granlibakken: 6 inches
Homewood Mountain: 16 inches
Kirkwood Mountain: 11 inches
Mt. Rose: 12 inches
Northstar California: 16 inches
Sierra-at-Tahoe: 13 inches
Soda Springs: 24 inches
Squaw Valley: 19 inches
Sugar Bowl: 15 inches
Tahoe Donner: 14 inches