Another winter storm should arrive tonight at Lake Tahoe ski resorts, dropping perhaps 1-2 feet of snow.
According to the National Weather Service (NWS) in Sacramento, skiers and snowboarders could receive an extra dose of winter cheer thanks to a weather system that could deliver 1 to 2 feet of snow by Monday morning (Dec. 17).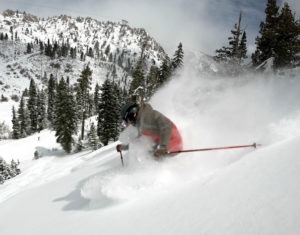 The snow is expected to start Sunday afternoon and continue through the evening.
"This next storm will hit most of Northern California," said Hannah Chandler-Cooley, a meteorologist with the NWS.
Ten to 18 inches of snow is predicted to fall at Lake Tahoe ski resorts from Sunday to Monday. Higher elevations and areas with stronger snow showers could experience levels of up to 2 feet of fresh snow.
The heaviest snowfall is expected to take place late Sunday evening into the early-morning hours Monday. Drivers planning to be on the mountain-area roads should pay attention to chain requirements and plan for low visibility.
"This is a fairly typical winter weather system," Chandler-Cooley said, adding that the storm system that traveled through California on Friday night stayed pretty far north of Sacramento and delivered little snowfall in the mountains. "It's just going to wetter."
Opensnow California forecaster Bryan Allegretto is also predicting snow for the Lake Tahoe region. However, his forecast doesn't include as much snowfall.
"Sunday the clouds and winds increase ahead of the next storm," Allegretto wrote. "The next storm moves in Sunday evening and lasts into Monday morning. We could see 3-11 inches of snow on the mountains by midday Monday."
Allegretto says high pressure builds in quickly behind the latest storm, bringing dry and mild weather for the rest of this week. Highs will be in the 40's on the upper mountains and near 50 at lake level Tuesday through Friday.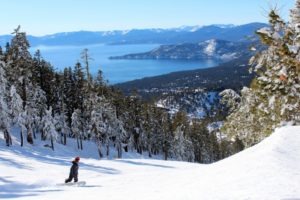 He says the long-range forecast looks like storms could return between the Dec. 23-26.
Both Diamond Peak and Granlibakken ski areas opened this week. All 13 Lake Tahoe ski resorts are now open for the 2018-19 season.
Tahoe Ski Resort Openings
Boreal Mountain: Open
Diamond Peak: Open
Heavenly Mountain: Open
Granlibakken: Open
Homewood Mountain: Open
Kirkwood Mountain: Open
Mt. Rose: Open
Northstar California: Open
Sierra-at-Tahoe: Open
Soda Springs: Open
Squaw Valley Alpine Meadows: Open
Sugar Bowl: Open
Tahoe Donner: Open