The future of dramatic wildfires and the consequences of climate change were two serious topics addressed earlier this week in South Lake Tahoe.
The climate and fire forum were part of Operation Sierra Storm (OSS), a leading national weather conference that took place in South Lake Tahoe from Jan. 26-28. It is a cutting-edge meteorological forum and seminar for network television meteorologists from around the country.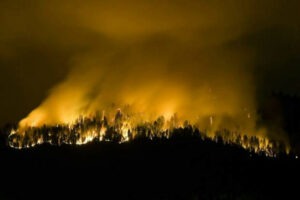 In a forum Monday (Jan. 27) that was open to the public and included media and meteorologists, both topics were addressed separately in the three-hour session at Harvey's Lake Tahoe. There were two speakers discussing the environment and climate, while the fire panel included three speakers and moderator Chad Myers, a CNN weather correspondent.
The climate and fire forum were presented by the Lake Tahoe Visitors Authority and the Tahoe Douglas Visitors Authority. They had support locally from Heavenly Mountain Resort, Harrah's, Harveys Lake Tahoe, Edgewood Tahoe, Lake Tahoe Resort Hotel, Hard Rock Hotel & Casino Lake Tahoe, MontBleu Resort Casino & Spa, Tahoe Regional Planning Agency, and the Tahoe Fund.
Fire Forum: The panel discussion included Chris Anthony, Cal Fire staff chief, Rich Thompson from the National Weather Service (NWS), and PG&E meteorology analyst Scott Strenfel. Following the three presentations, the panel participated in a question-and-answer session with the audience.
Anyone living in California these days understands the great escalation of fires all over the state. Anthony noted that fire seasons have grown by 78 days a year over the last 40 years and much higher evening temperatures, attributed to climate change, have created more challenges for fire crews attempting to gain control of these huge fires.
Anthony also said that 15 of the state's largest 20 fires have occurred since 2000. "It's a really big challenge we now face," said Anthony, who is based in Sacramento.
Could a huge fire, like the one two years ago in Paradise – the Camp Fire – take place in the Lake Tahoe basin? It could definitely happen, according to Anthony. The Camp Fire was the deadliest and most destructive wildfire in California history and the most expensive worldwide natural disaster in 2018.
Anthony feels a fire could start at night during the summer and tourists unfamiliar with the South Lake Tahoe area, would result in an environment ripe with panic.
"We're all sitting down at a table figuring this out before it happens, so we don't have to make these decisions in the middle of an event from the back of our pickup trucks," Anthony said. "We clearly have a lot of work to do here. This is an emergency that everyone needs to address."
Fire concerns have been enhanced by drought, wet weather followed by dry months, impacts from climate change, inadequate forest management, and temperature increases. Since 2005, nine of the 10 warmest winters have taken place, according to Anthony.
Naturally, the major topic for the PG&E representative was power outages. Strenfel discussed how difficult the decision is when PG&E cuts off power. Utility representatives are in constant contact with NWS during high-risk times to insure the two are thinking alike.
Strenfel told the crowd why cutting off the power happens so suddenly and the power going back on is so gradual, a fact that frustrates many homeowners and businesses in impacted areas.
"When we re-energize, we know we have a strong event wash over our territory, as easy as it would be to just turn on the power, we have to investigate each line, and it's a step-by-step process," Strenfel said. "A lot of those lines have to be manually patrolled and visually inspected. If we were to re-energize without inspecting and cause a fire, that's the last thing we want to do."
Climate change: Two Capital Public Radio employees handled the topic, discussing their involvement in the worldwide problem. Environment reporter Ezra David Romero and Emily Zentner, an Interactive Producer and data reporter, made a roughly 50-minute presentation and took questions afterward.
The consequence of climate change may be our biggest challenge because it will affect Lake Tahoe's clarity, increase the threat of wildfires and jeopardize the economy, unless changes are made in anticipation of a warming climate, noted Zentner. The Tahoe Basin's transportation options are encouraging affordable housing projects, so that those who wish to live and work in Tahoe can do so.
Climate change is definitely a concern for Tahoe ski resorts and businesses involved in the skiing industry.
"The climate crisis is happening right now. And it's not just in Lake Tahoe, it's an international problem," Romero said. "The problems that are happening in Lake Tahoe are just a small slice of what's happening globally. Our goal is to show data and the impact of climate change on people."