Tahoe Donner will host the Lake Tahoe premiere of 'Return
to Paradise – A Skier's Journey' on Wednesday April 11.
This inspirational film documents former champion freestyle skier Mike
Vowels and his return to skiing 28 years after a paralyzing ski accident in
1985.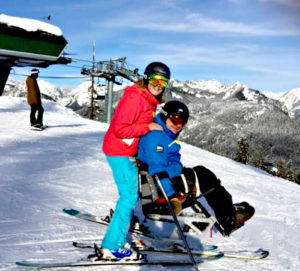 The event begins at 7 p.m. at the Alder Creek Adventure Center at Tahoe Donner, a ski resort located in Truckee that offers both downhill and cross-country skiing. Cost is $20.
Below is a question-and-answer session with Vowels, who discusses his skiing background and his motivation to return to the sport and create his first ski film.
HOW DID SKIING BEGIN FOR YOU?
My stepfather Jack Graham introduced me to skiing at age 11. I was a
quick study, and by age 15 I had become a ski instructor. I taught for another 14 years, until the time of my injury. I competed as a freestyle skier from 1974-76, winning 12 aerial competitions in the Pacific Northwest. My 1976 ski season took me on a National Freestyle Tour. My best finishes of that final season included a second place in Quebec and a fourth place in Keystone, Colo.
WHAT CHANGED AFTER YOUR ACCIDENT?
Everything in life was more challenging. I rolled-up my sleeves and
returned to work 12 weeks after being released from the hospital. I
persevered and established a solid career in the commercial
construction industry as an estimator and project manager. Skiing was
no longer on the table. I never looked back.
WHEN DID YOU RETURN TO SKIING?
At 57, depression began creeping into my busy life. I dove into two
years of psychotherapy and the processes forced me to address all
aspects of my life, including my broken relationship with skiing. I spent one intense year in the gym getting in the best shape possible. Journaling and psychotherapy prepared me mentally for what was to come – learning to ski again without having the use of my legs.
HOW HAS IT BEEN SO FAR?
It was a lot of hard work, but more rewarding than I ever imagined. I
am enjoying my fifth ski season since my return. I am now semi-retired
and reinventing myself. My world just keeps getting bigger.
TELL US ABOUT YOUR FILM
The film took four years to complete. It's a journey about
self-exploration, discovery and healing. The skier finally faces a
traumatic life event that influenced his life for nearly three
decades. The film was an opportunity for me to share what I've learned
in hopes of encouraging and benefiting others along the way. It is
dedicated to my stepfather, Jack.
PREMIERE SUPPORTS HIGH FIVES FOUNDATION.
That's right. My ski film allows me to pay it forward. My aim is to
generate revenue that serves injured veterans through outdoor
recreational therapies. If someone else hosts me and the film, my aim is to generate revenue that serves their charitable cause. High Fives is a great organization helping athletes work through similar life situations I faced.
PROMOTING THE FILM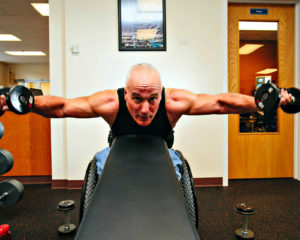 To help raise awareness, my partner Cate and I have set out to ski 28
new ski resorts in reflection of my 28 years away from skiing. We have
nine more to complete in April, one of course being the Tahoe Donner
Downhill Ski Resort.
WHATS NEXT?
I'll be attending the Snowsport History Celebration in Squaw Valley
April 12-15. We plan to move to Sun Valley next winter, where I'll
continue seeking new life-expanding opportunities like stand-up
comedy, motivational speaking and forever seeking
to improve my skiing.
When: Wednesday, April 11, 2018
Where: Alder Creek Adventure Center in Tahoe Donner
Time: Doors 6 p.m.; Film 7 p.m.
Cost: $20 suggested entry. Donations supporting High Fives Foundation
No host beer, wine and grab-n-go food items available for purchase.