Tahoe Donner Downhill Ski Resort is participating in the National Learn to Ski or Snowboard Month, which takes place in January.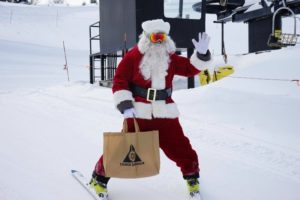 Located at 11509 Northwoods Blvd. in Truckee, family-friendly Tahoe Donner will offer its Learn to Ski or Snowboard packages for $49 on January 14-17 and January 21-24.
Tahoe Donner will also participate in the National Learn to Ski Day Celebration organized by NSAA on Jan 11. Details are online at: http://www.tahoedonner.com/events/national-learn-to-ski-or-snowboard-day-celebration/
These packages are only for first-timers and include an all-day lift ticket, rental equipment and a 1.75-hour group lesson for ages 7-and-above.
Below is Tahoe Donner's December Calendar.
Customer Appreciation Day: Sunday, Dec. 16, Tahoe Donner will be providing $10 lift tickets to all skiers and snowboarders.
Christmas Day Pancake breakfast: A chance to dine with Santa. Breakfast starts at 10 a.m. at Tahoe Donner, followed by a half day of skiing and riding with Santa. The ski lifts will open at 11:30 a.m. for this special day. A lift ticket or season pass is required to ski or ride.
New Year's Eve Light Parade, Fireworks show: This is a fun event for intermediate skiers and riders ages 10-older who can ski or ride unassisted in the dark on the Tahoe Donner Race Course run. Come early to secure a spot in the parade. Sign-ups are from 4:30-5:45 p.m. with the chairlift loading time at 6:15 p.m.
The New Year's Fireworks show will follow the Light Parade. This is a free event.
New Year's Eve Snowshoe Tour: Celebrate the New Year with a guided snowshoe hike on the Tahoe Donner's cross country ski trails. The Trailside Bar will be open to purchase drinks after the tour. This is also a great location to view the fireworks at the Downhill Ski Resort.
The Snowshoe Tour begins at 5:30 p.m. Meet at the Cross Country Ski Center at 5:15 p.m. (5 p.m. if you need to rent equipment). Suggested dress is in warm layers, including hats and gloves. Bring water and a headlamp.
Visit www.tahoedonner.com for pricing. Space is limited. Reserve your spot(s) at least 24 hours in advance.
For more information, visit www.tahoedonner.com or call 530 587-9484.