A locals' favorite ski resort that's frequented by many Sacramento-area skiers and snowboarders as well, Sugar Bowl will open for the 2019-20 winter season Friday (Nov. 29).
There are six Tahoe ski resorts that are open Thanksgiving Day – Squaw Valley, Heavenly Mountain, Mt. Rose, Boreal Mountain, Alpine Meadows, and Soda Springs.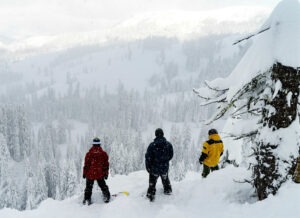 With the first significant winter storm of the season currently moving its way through the region, the National Weather Service forecast is calling for three to four feet of snow to fall at Sugar Bowl.
"It's game on. Not only are we watching the snow pile up at Sugar Bowl, our team is actively making the most of the cold temperatures by putting our snowmaking system to work," said Jon Slaughter, Sugar Bowl's executive director of marketing and sales. "This is our opportunity to help build a deep base that will carry us long through the season, and we're excited to welcome skiers and riders back to Sugar Bowl starting this Friday."
While exact resort operations will be announced as the storm subsides and the resort digs out. Lifts and terrain on the Judah side of the mountain are planned to open Friday. In addition, the resort's operations teams expect to expand lift and terrain offerings quickly once they see how much snow accumulates from this storm, paired with efforts from their extensive snowmaking system.
With temperatures reaching down into the single-digits, the snowmaking team at Sugar Bowl will be making snow around the clock for the next 4-5 days to bolster the base depth of runs around the mountain.
Located off Interstate 80 off the Norden exit, on Thanksgiving morning Sugar Bowl was reporting 20 inches of snow for the week.
Sierra-at-Tahoe will be offering a fun-filled schedule for opening day on Friday (Nov. 29), including free coffee from Black Cabin Coffee, a limited edition 2019 Opening Day Sticker, and a reusable Sierra-at-Tahoe straw for the first 100 guests in line. This will be followed by a complimentary beer toast at noon, led by John Rice.
Both Adult and Children's Ski and Ride School lessons, Day Care and bites and drinks will be available for purchase.
Located off Highway 50 heading into South Lake Tahoe, Sierra was reporting 20 inches of new snow Thanksgiving morning.
Northstar California: Following a week delay, opening day will be Friday (Nov. 29), which means plenty of skiing and riding at Northstar for the Thanksgiving holiday.
Thanks to a big assist this week from Mother Nature, Sierra-at-Tahoe will begin running its lifts Saturday (Nov. 30) to kick off the 2019-20 ski season.
After a slow start weather wise in the Lake Tahoe region in November, it has been snowing regularly this week since Monday. The snowfall, combined with Sierra's snowmaking efforts, will allow the resort to open for operation Saturday. Conditions permitting, Sierra plans to run Easy Rider Express, Rock Garden Chair and two surface lifts, with access to two runs and one terrain park.
"It truly looks like winter on the mountain right now, and we can't wait to kick off the season with our Sierra family this Friday," said General Manager, John Rice. "More snow is forecasted to fall throughout the week and into the weekend. Our team will continue to assess conditions to see what terrain we can offer our guests."
Northstar California will begin Friday with the Big Springs Gondola opening celebration at 8 a.m. Music will take place from 2-5 p.m. at the Rink Stage, kicking off an afternoon of family-friendly fun in the Village at Northstar. At 4 p.m., guests can enjoy complimentary s'mores and hot chocolate around the Village Ice Rink, followed by music and face painting from 5-8 p.m.
Complimentary ice skating for Epic Pass holders will be available at the Village Rink, and all shops and restaurants in the Village will be open. Michael Mina's new Bourbon Pub Northstar will be celebrating its grand opening Saturday (Nov. 23).
Located off Highway 267 in Truckee, Northstar was reporting 5 inches of new snow Thanksgiving morning and 24 inches for the week.
Kirkwood Mountain: The possibility of snagging a free burrito and some cool swag is part of the fun at Kirkwood's opener Friday (Nov. 29).
Opening Day celebrations at Kirkwood Mountain will give pass holders a chance to score free burritos, swag and drop into their winter flow. Beginning Wednesday (Nov. 27), the Wall Bar will be open daily from 11 a.m. to 9 p.m., offering upscale pub classics.
"We are excited to start our season with great conditions and fun opening-day celebrations," said Tom Fortune, general manager and vice president of Heavenly, who was formerly at Kirkwood for many years. "Our snowmaking teams have been working at every available opportunity to make snow and prepare our mountain for guests. We look forward to the upcoming forecast, and our teams will be working hard to continue to expand and open terrain as soon as we can safely do so."
Located off Highway 88 near South Lake Tahoe, Kirkwood was reporting 15 inches of new snow Thanksgiving morning and 25 inches for the week.
OPENING DATES TAHOE SKI RESORTS (All dates are weather dependent)
Mt. Rose: Opened October 25
Squaw Valley: Opened November 15
Alpine Meadows: Opened November 15
Boreal Mountain: Opened November 23
Heavenly Mountain: Opened November 27
Soda Springs: Opened November 28
Sugar Bowl: November 29
Northstar California: November 29
Kirkwood Mountain: November 29
Sierra-at-Tahoe: November 29
Homewood Mountain: December 6
Diamond Peak: December 12
Granlibakken: December 13
Tahoe Donner: December 13