Like all Tahoe ski resorts, Sugar Bowl will be changing many things in the 2020-21 season, putting in place coronavirus safeguards.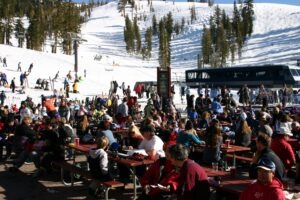 In formulating a plan, Sugar Bowl observed how ski areas with summer business have been operating regarding guest safety. The resort has also monitored how ski areas in the southern hemisphere were conducting their ski and snowboard season.
Sugar Bowl is located off Interstate 80 at the Norden exit.
"We've talked with our industry peers who share good ideas and lessons learned," Sugar Bowl stated in a press release. "And we continue to rely on our partners with the National Ski Areas Association (NSAA), the California Ski Industry Association (CSIA), Placer County, and the state of California, who help determine best practices and guiding principles. Our goal is to provide a safe and comfortable experience while maintaining an enjoyable, family atmosphere."
The partial list below, subject to change, assumes that existing restrictions and guidelines in Governor Newsom's Blueprint for a Safer Economy remain in place this winter at Sugar Bowl and the nearby Royal Gorge cross country facility.
CORONAVIRUS SAFEGUARDS
Care Team: The Care Team will work with guests to communicate and enforce expectations for face coverings, physical distancing and other COVID-specific policies. Care Team members will also control indoor access to facilities. And once indoors, skiers and riders will find them regularly cleaning and sanitizing surfaces in common areas.
Face coverings required: Sugar Bowl will require face coverings at all times – indoors and outdoors – for all guests and staff. Face coverings are simply one of the most effective tactics we can deploy to protect against the spread of COVID-19.
Lift tickets advance purchases: Advanced purchases will be required for lift tickets, lessons and rentals. Pre-arrival communication is paramount to our success this season, and requiring advance purchase will ensure guests are aware of any significant operational changes before arriving at the resort. By requiring advance reservations, the resort will be better prepared to manage the flow of guests from arrival to departure and conduct contract tracing if needed by obtaining the contact information for each guest.
Other ticket programs: Several lift ticket programs have been suspended for the season, including most discount opportunities and 3 Packs. As the season progresses, we may reintroduce some of these programs if capacity allows. Online lift tickets will be available for purchase at the beginning of November and the resort expects them to sell-out quickly. Click here if you would like to be notified when tickets go on-sale. Click here if you would like to be notified if season passes go back on sale.
Touchless lift access gates: New gates will allow for touchless scanning and guest tracking. These new, hands-free access gates are being installed at seven primary lifts. There are several other ways the new gates can enhance the guest experience at Sugar Bowl; we'll explain more in future communications this fall.

Sugar Bowl has monitored how ski areas in the southern hemisphere were conducting their ski and snowboard season earlier this year.

Gondola lift rides: No skier or snowboarder will be asked to ride a lift or gondola with anyone outside of their related party. Face coverings will be required and physical distancing in the lift queues will be managed with markers. Skis and snowboards organically provide distance, and appropriate lateral spacing will be created with maze construction. Guests will self-group when loading chairlifts, and lift attendants will not require guests to ride with others if the guest is uncomfortable doing so. Gondola cabin loading will be modified in order to allow for cleaning and disinfecting after each unload.
Indoor access limited: Arriving guests should be prepared to enjoy an outdoor experience this winter at Sugar Bowl – no matter the conditions – as indoor congregation will not be possible. The lodges will be available for restroom and "warming zone" access only, limited to 15-minute increments, monitored by the Care Team. "Booting-up" or leaving bags inside the lodges will not be allowed. To reduce congregation, guests requiring equipment rentals and lessons must reserve a time-slot in advance to access the indoor areas.
Food & beverage service: It will be "grab and go." Sugar Bowl is expanding its outdoor dining footprint at various locations around the resort and will add hot and cold grab and go options for guests to enjoy outdoors. In addition to outdoor locations, indoor cafés will offer grab and go options, but no indoor seating will be available.
Monitoring employee health: All staff will have a daily screening for symptoms of COVID-19 before the start of a shift.
For more information on Sugar Bowl, visit www.sugarbowl.com.