Following three dismal months of snow totals at Tahoe ski resorts, April has become a blockbuster of a month when it comes to snowfall.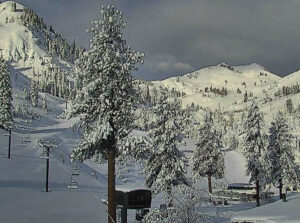 One of three Tahoe ski resorts still open, Palisades Tahoe was reporting 28 inches of snow Friday morning over the past 24 hours and 58 inches for the week.
Palisades now has 394 inches of snowfall for the 2021-22 season, the most among Tahoe ski resorts.
The heavy spring snowfall was easily the largest weather pattern to date in 2022 at Tahoe ski resorts. Despite the heavy snow this month, only three Tahoe ski resorts remain open.
After wondering if the snow would last until Palisades' projected closing date of May 1, the new snow has pushed back closing time until at least May 15. After May 1, Palisades will be open Friday through Sunday only.
Palisades was closed Thursday, but reopened for skiing and riding Friday morning. Although the new snow is a major plus, any Palisades terrain that was previously closed for the season – including Alpine, Red Dog, Resort Chair, and KT-22 – will remain closed.
Note that the Alpine Meadows side of Palisades is closed for the season.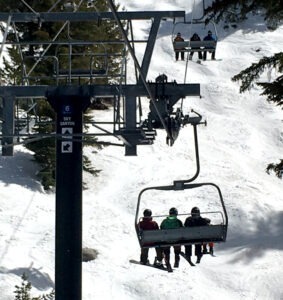 Kirkwood ski resort remains open until May 1. It received two feet of new snow by Friday morning, pushing its total over the past week to 44 inches.
Heavenly received 10 inches of snow by Friday morning and has 23 inches over the past week. The South Lake Tahoe ski resort closes Sunday (April 24).
April's storms have deposited 76 inches of snow on Donner Pass this month, making it the seventh-snowiest April on record for the Donner Pass Snow Lab, which maintains one of the longest snowpack and snowfall historical records in the world.
The April snow in the Lake Tahoe region comes on the heels of an abysmal January, February and March. The three months were the driest on record at all U.S. Department of Agriculture snow-measuring sites.
Sites that typically see 10 to 30 inches of snow received as little as 1 to 4 inches this year.
WEATHER WATCH: The weather is expected to be nicer over the weekend as high pressure builds in.
The Tahoe region should see sunny skies and high temperatures warming into the 40s Saturday and then 50s at the base for Sunday. The winds will be lighter than earlier this week.
The dry weather should continue next week through at least Thursday. The winds may pick back up Tuesday with ridgetop gusts up to 80-plus mph at the top, possibly closing some upper mountain lifts.
TAHOE SKI RESORT CLOSING DATES
Palisades: May 15
Kirkwood: May 1
Heavenly: April 24
Sugar Bowl: April 17
Alpine Meadows: April 17
Northstar: April 17
Mt. Rose: April 17
Granlibakken: April 17
Boreal: 4 inches, April 17
Soda Springs: April 17
Tahoe Donner: April 10
Diamond Peak: April 10
Sierra-at-Tahoe: April 10
Homewood: April 10