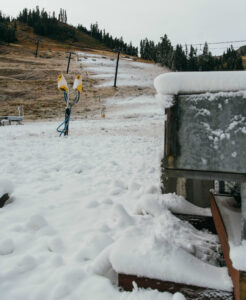 Cold evenings have returned to the Lake Tahoe region. And Squaw Valley Alpine Meadows is taking advantage of it, announcing late last week it had begun snowmaking operations.
"Temperatures have dropped low enough for us to officially kick off snowmaking at Squaw Valley and Alpine Meadows," spokesperson Liesl Hepburn wrote in an email. "We made snow last night (Oct. 17) into this morning on the upper and lower mountains at Squaw Valley and on the lower mountain at Alpine Meadows."
While Squaw Valley Alpine Meadows is not traditionally the first Tahoe ski resorts to open, they are usually running lifts prior to Thanksgiving. Where the resorts really stand out is staying open while other Tahoe ski resorts have long been closed.
A year ago, the curtain finally came down on the ski season at Squaw Valley on Sunday, July 7, ending the fourth largest season of operating days in the resort's history. The season lasted nearly eight months and there were 212 operating days this season.
This season Mt. Rose could once again be the first Tahoe resort to open for skiing and snowboarding. The resort, located 25 miles from Reno and near the Nevada-North Lake Tahoe border, is targeting an Oct. 25 opening this season, weather and conditions permitting.
Mt. Rose opened last year on Oct. 18 for skiing and snowboarding, the earliest opening in resort history. The prior earliest date was Oct. 26, 2017. It was the third year in a row that the honor belonged to Mt. Rose.
In Colorado, a sizable early snowfall earlier this month allowed Arapahoe Basin to be the first resort to open in North America on Oct. 11. Nearby Keystone Resort opened one day later for skiers and riders.
Squaw Valley Alpine Meadows opened for the 2018-19 season Nov. 16, with almost entirely manmade snow. Despite the humble start, the season quickly became an epic one for snowfall. There were huge snowstorms hammering Squaw Alpine Meadows and other Tahoe ski resorts during the height of the winter months.
Squaw Valley ended the season with 719 inches of total snowfall, including a monumental 315 inches in February. The 2018-19 season was the third snowiest season on record. February smashed the resort's previous record to take the title of snowiest month ever for Squaw Valley Alpine Meadows.
Three other Tahoe ski resorts received more than 600 inches this season, while five resorts received 500 or more inches. Exceeding the 600-inch mark were Sugar Bowl (618), Homewood Mountain (606) and Northstar California (601).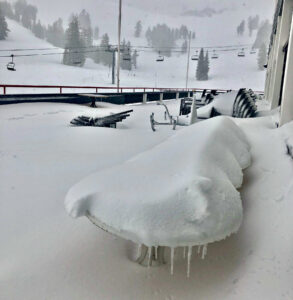 Heavy winter storms broke records for snowfall for the 2018-19 season.
"Record-breaking snow conditions paired with the hard work of our mountain operations teams have made for a truly unforgettable season," Mike Goar, vice president and chief operating officer of Vail Resorts said in late February. "We offered skiers and riders additional opportunities to take advantage of these amazing spring (and summer) conditions across the region."
It should come as no surprise that Tahoe ski resorts saw a 17-percent increase in snow visits for the 2019-19 ski season.
California and Nevada ski resorts had 7.3 million visits this season, according to preliminary figures released by the National Ski Areas Association and the California Ski Industry Association. That equates to a 17-percent from last year, and 11-percent above the 10-year average. The number of visits were up year-over-year every month from October through March.
Nationwide, this year's totals were the fourth-biggest season on record, with 59.1 million visitors to ski resorts.