Thanks to a sizable amount of early-season snow, Squaw Valley's KT-22 chair will be open Wednesday for the first time this season.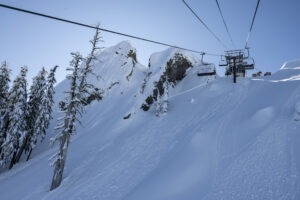 Following more than 2 feet of snowfall this weekend, Squaw Valley Alpine Meadows keeps opening more terrain. Squaw opened its upper mountain Sunday and weather permitting, will have skiers and snowboarders heading down the iconic steeps of KT-22 Wednesday (Dec. 11).
At Alpine Meadows, the back bowls of Sherwood Express will also be open Wednesday for the first time this season. Skiers and riders can now hop on Alpine's new Treeline Cirque chairlift and reach that backside terrain in just 5 minutes from the base area. Alpine opened the Summit Express lift Monday, granting guests fresh powder turns along with some terrific lake views.
Olympic ski racer Travis Ganong grew up skiing on the Squaw Valley Ski Team. He is currently representing the U.S. Ski Team on the World Cup ski racing circuit, but skied at Squaw after flying home following a break in his schedule.
"I skied (Squaw) a few days in between World Cup racing," Ganong said. "Winter is on here, it's amazing. It's some of the best early-season coverage I've ever seen at Squaw Valley Alpine Meadows."
100-INCH CLUB: Seven Tahoe ski resorts have recorded 100 or more inches for the season. That didn't happen until the end of the first week of January last season.
Among Tahoe ski resorts, Kirkwood Mountain has received the most early-season snow with 125 inches. Mt. Rose, the first Tahoe ski resort to open this season (Oct. 25), is second with 119 inches and Sierra-at-Tahoe is not far behind with 117 inches. Squaw Valley and Northstar California have 110 inches, Alpine Meadows has 105 and Sugar Bowl has gotten 103.
The recent storms were obviously a big help in pushing these seven resorts into triple digits for snow totals. Tahoe ski resorts got between 16-28 inches over the weekend.
WEATHER UPDATE: According to OpenSnow's forecast, Monday through Thursday are expected to be partly sunny to sunny skies and lighter winds, with high temperatures in the 40s. A weak system moves through Tuesday night and could bring a dusting up to an inch of snow to the mountains. The next storm should arrive Friday into Saturday and bring more rain and snow.
There could be several inches up to a foot of new snow on the mountains. Going into the third week of December, the Tahoe area could transition into a colder pattern leading up to Christmas.
OPENING DATES TAHOE SKI RESORTS (all dates are weather dependent)
Mt. Rose: Opened October 25
Squaw Valley: Opened November 15
Alpine Meadows: Opened November 15
Boreal Mountain: Opened November 23
Heavenly Mountain: Opened November 27
Soda Springs: Opened November 28
Sugar Bowl: Opened November 29
Northstar California: Opened November 29
Kirkwood Mountain: Opened November 29
Sierra-at-Tahoe: Opened November 30
Homewood Mountain: Opened December 6
Diamond Peak: Opened December 7
Granlibakken: December 13
Tahoe Donner: December 13