Two snowboarders have died recently at an Oregon ski resort.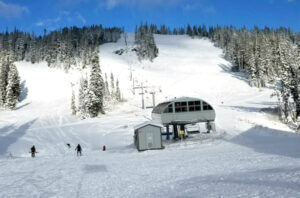 California snowboarder, Tim Bauters of Sunnyvale, was discovered dead Monday in the Heather Canyon area at Mt. Hood Meadows.
On Sunday, Ryan Zeitner, a 45-year-old man from Portland, suffered fatal injuries after he fell while snowboarding on the same part of the mountain, considered an extremely difficult double black diamond terrain.
Heather Canyon, located on the east side of the resort, is home to some of Mt. Hood Meadows' most rugged terrain, which is sought after by advanced skiers and snowboarders. The canyon has steep slopes, wide-open bowls and tight trees and gullies that can be accessed through gates that are open or closed, depending on daily conditions.
It's unclear exactly where in the canyon the snowboarders died, and officials from the resort did not immediately respond to questions about conditions in the area before Bauters went missing or when Zeitner suffered his fatal injuries.
Meadows' trail map warns that Heather and two other areas of the resort – Clark Canyon and Private Reserve – aren't patrolled on a regular basis and have avalanche danger at all times. Skiers in in those areas should also be aware of waterfalls, creek holes and unmarked obstacles in those areas, the map warns.
Bauters, 47, was believed to be snowboarding alone, but reportedly was in good shape and had been to Mt. Hood Meadows multiple times, officials said. Security at the resort confirmed his rental car was still in the parking lot, and the Hood River County Sheriff's office initiated a search from the air while ski patrollers narrowed the search area based on the last lift he rode.
About 6:15 p.m. Monday, staff at the resort reported they had found his body in the Heather Canyon area. Bauters had been in Oregon on an extended work trip, and the last known communication he had with family was Friday, when officials said he was at the resort.
"He was an avid outdoorsman," said Christopher Packal, a work colleague who said Bauters had been working at the company's Hillsboro Slurry Waste Solutions facility. Because of the long weekend, Bauters decided to take Friday off to do some snowboarding.
Packal said Bauters was supposed to work on Saturday, but when the usually communicative engineer didn't show up or call, friends and family knew something was not right.
"It's very shocking," Packal said. "You can't be around Tim without knowing Tim. He was loud, lots of laughter – he's irreplaceable."
Zeitner grew up in Eugene, but moved to Portland and worked for Comcast. He got married a few years ago and was raising his 2-year-old son with his wife, Amanda.
Bob Scott, Zeitner's uncle, told The Oregonian/OregonLive that the two had been to the mountains together many times and that Zeitner was an "excellent snowboarder."