An October snow is always welcome in the Lake Tahoe region, where this time of year the ski season typically lingers around the corner, depending on the fickle ways of Mother Nature.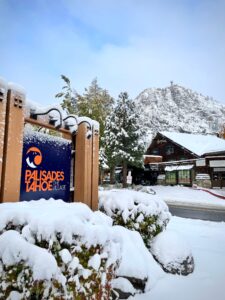 Mother Nature gave skiers and snowboarders a reason for optimism Sunday (Oct. 17), dumping snow overnight that left 2-7 inches at Tahoe ski resorts.
Kirkwood Mountain off Highway 88 had the most snow among Tahoe ski resorts, reporting 7 inches. Both Sugar Bowl and Sierra-at-Tahoe received 6 inches overnight, and Boreal Mountain got 5 inches.
It's not unusual for a Tahoe ski resort to open prior to Halloween. But for most resorts, the season usually gets going the week of Thanksgiving, deemed an important starting point financially for Tahoe ski resorts.
Palisades Tahoe – formerly Squaw Valley Alpine Meadows – was reporting 4 inches of snow Monday morning. The resort has scheduled Nov. 24 for its opener, weather and conditions permitting
"Despite it only being October, the mountains are looking very wintery this (Monday) morning under a blanket of new snow," said Palisades spokesperson Alex Spychalsky said. "This is our first accumulation of the 2021-22 season. Forecasts say this is just the start to an unseasonably snowy October, with more snow on the way this week and next."
TRAVEL ISSUES: Chain controls were activated on a section of Interstate 80 and Highway 50, the two main arteries into Lake Tahoe.
Chains were required on all vehicles except four-wheel drive from Twin Bridges to Meyers on Highway 50.
On the other side of the lake, chains were required from Kingvale to Truckee on Interstate 80 eastbound. For westbound travelers, chains were needed from Truckee to 4.7 miles west of Kingvale.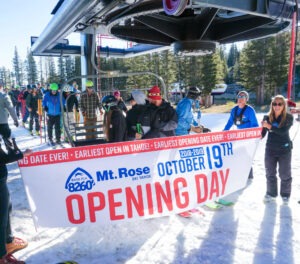 The Sierra snowfall was significant enough to impact travel over the higher passes. Caltrans reported that Ebbets Pass on State Route 4, Monitor Pass on State Route 89 and Sonora Pass on State Route 108 were closed by inclement weather.
WEATHER FORECAST: According to Bryan Allegretto, California Snow Forecaster with OpenSnow.com, forecasts show it may be the start to an unseasonably snowy October, with more snow on the way this week and next.
"Monday will be cold with highs in the 30s, and we may not break 40 at lake level," Allegretto said. "Skies will clear and winds will drop off. It will be a chilly day with nice views of the white mountains, making it start to feel like early winter."
Allegretto says the next snow should arrive Thursday and stay above 9,000 feet, but then falling close to 7,000 feet later Friday afternoon.
"The storms just keep coming, we could see up to six storms over the next nine days," Allegretto said. "The trough is forecast to be centered farther east over the West Coast by Friday through early the following week."