A welcome batch of new snow should arrive at Tahoe ski resorts this week.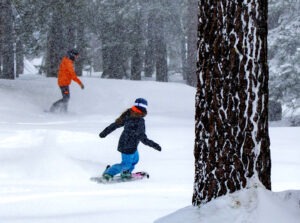 According to Bryan Allegretto, California Snow Forecaster for OpenSnow.com, a decent system could bring modest snow totals of 5-15 inches at Tahoe ski resorts at upper elevations by Thursday morning (March 11). Snow is expected to start Monday and conclude early Thursday.
Allegretto predicts that six Tahoe ski resorts – Boreal, Sugar Bowl, Kirkwood, Homewood, Squaw-Alpine, Sierra-at-Tahoe – will receive 10 or more inches when the storm concludes.
CHECK OUT TAHOE SEASON SNOW TOTALS BELOW
Tahoe ski resorts received a bit of snow that started Friday evening (March 5) and dropped 2-5 inches at upper elevations. Skiers and snowboarders can expect a nice bluebird Sunday at Tahoe ski resorts with temperatures in the 40s.
"It's going to feel a bit like spring here today," a weather report on the Homewood Mountain ski resort website stated. "Expect to find fun groomers, soft snow and a great time out on the mountain."
MONDAY THRU THURSDAY WEATHER: Allegretto believes a slow-moving system will bring light snow showers Monday through Thursday morning.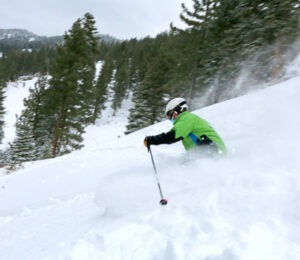 "A cold trough is going to push south into California on Monday," wrote Allegretto on his Sunday snow report. "The initial cold front looks pretty dry for Monday with some light snow showers possible and fading south of the lake. Highs dropping into the 30s at lake level and 20s for the upper elevations.
Strong wind gusts with ridgetop gusts from the southwest of 60-70-plus mph. Expect a cold and blustery day with a few snow showers possible."
Scattered snow showers are expected to continue through Monday night. Overall, not much snowfall is anticipated, especially east of the crest across the Tahoe Basin.
Snow levels should start around 5,000 to 5,500 feet and falling as low as 3,000 feet by Monday night. Allegretto predicts a dusting of snow for most locations by Tuesday morning with 1-2 inches possible on the upper mountains west of the lake along the crest.
However, the next two days the snow will likely be more plentiful. Tuesday into Wednesday a low pressure brings a better chance of steadier snow showers. The heaviest snow could fall Tuesday night into Wednesday morning as the eastern side of the low moves over the Sierra.
Thursday should be a powder day for skiers and riders. Allegretto expects partly to mostly sunny skies with snow showers possible sweeping through Tahoe ski resorts during the morning. Highs should be in the 30s to near 40 degrees at lake level.
"We may see a drier pattern return by the end of the week into next weekend. The next chance for a storm could be next Sunday/Monday," writes Allegretto.
TAHOE SNOW TOTALS (season totals, March 7)
Squaw Valley: 238 inches
Alpine Meadows: 236 inches
Sugar Bowl: 228 inches
Boreal: 224 inches
Soda Springs: 223 inches
Sierra-at-Tahoe: 220 inches
Homewood: 199 inches
Kirkwood: 196 inches
Northstar: 171 inches
Mt. Rose: 169 inches
Heavenly: 155 inches
Tahoe Donner: 151 inches
Diamond Peak: 137 inches