Tahoe ski resorts are reporting some nice three-day snow totals from the storms that have hit the region this week, setting up some great skiing and snowboarding for the President's Day weekend.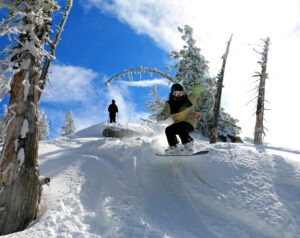 The range of snow has been 15-28 inches from the two storms – the first one that started Thursday and the next one that began Saturday.
"The season totals this (Sunday) morning have bumped us back up to 77% of average for the date – not too shabby," wrote Bryan Allegretto, California Snow Forecaster for OpenSnow.com.
Homewood Mountain received the most snow among Tahoe ski resorts with a three-day total of 28 inches. Sugar Bowl was close behind with 27 inches and Alpine Meadows had 26.
TAHOE SNOW TOTALS (three-day total, Feb. 11-14)
Homewood: 14-7-7 – 28 inches
Sugar Bowl: 12-9-6 – 27 inches
Alpine Meadows: 16-5-5 – 26 inches
Squaw Valley: 14-6-4 – 24 inches
Tahoe Donner: 10-6-8 – 24 inches
Sierra-at-Tahoe: 12-6-5 – 23 inches
Boreal: 12-6-4 – 22 inches
Soda Springs: 12-6-4 – 22 inches
Northstar: 12-4-5 – 21 inches
Kirkwood: 11-3-5 – 19 inches
Heavenly: 11-2-2 – 15 inches
Diamond Peak: 7-6-2 – 15 inches
Mt. Rose: 7-6-2 -15 inches

Homewood Mountain has received the most snow from the last three days, accumulating 28 inches.
The snow showers Saturday morning dropped some decent amounts of snow – 2-8 inches – at multiple Tahoe ski resorts in the morning.
"Skiers and snowboarders were treated to an unexpectedly deep powder day, with clear skies and 100 percent of the mountain open for skiing and riding," a spokesperson from Diamond Peak said.
SUNDAY STORM: One more storm will hit the Tahoe region, beginning Sunday afternoon. Allegretto believes the storm is expected to add another 1-8 inches to Tahoe ski resorts.
Allegretto says clouds and sun will be prevalent Sunday morning with increasing clouds and wind in the afternoon. The snow showers are expected by early evening and lasting through Monday afternoon.
Following two days of mostly sunny skies, the next storm may arrive by Thursday morning.