Normalcy returned to Lake Tahoe ski resorts the past two days, following a monumental week of snowfall.
According the Lake Tahoe snow forecaster Bryan Allegretto, the snowfall over a four-day period that started last Thursday, has already made March the snowiest month of the 2017-18 ski season.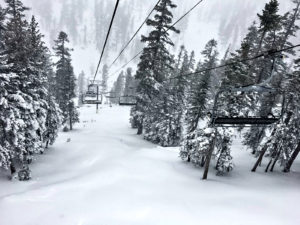 Squaw Valley Alpine Meadows were reporting the most snow among the Lake Tahoe ski resorts with 100 inches. Kirkwood Mountain wasn't far behind with a reported 94 inches. Nine of Lake Tahoe's 14 ski resorts received 60 or more inches over the past week.
The storm hit Lake Tahoe ski resorts Wednesday evening and by Friday morning the totals were as high as 36 inches.
Although it's been a subpar year for snow overall, it's really starting to feel like winter the past few weeks at Lake Tahoe ski resorts following a very disappointing January and most of February. Many resorts have now gone well over the 100-inch mark this season.
However, the great snowfall also brought some tragedy. A snowboarder was lost overnight at Squaw Valley and found dead in the Squaw Creek area Friday morning. Later that day, there was an avalanche at Squaw that nearly buried one man alive. Fortunately, the five people impacted in the avalanche were not seriously hurt.
A break in the weather came Sunday with a wonderful powder day the reward. Monday was another great day for skiers and snowboarders.
Allegretto is forecasting a light snowfall Thursday that may drop only 1-2 inches. However, a strong storm will hit Lake Tahoe ski resorts a few days later. The storm could drop 1-2 feet of snow.
"The cold trough headed for the West Coast for Sunday, but ahead of that some subtropical moisture could be drawn North into California on Saturday night," predicts Allegretto. "Snow levels could start around 7,000 feet Saturday night and fall below lake level by Sunday night as the cold front moves through.  This storm could drop a decent amount of snow with the front Sunday night into Monday."
Snow Report (past week)
Squaw Valley: 100 inches
Alpine Meadows: 100 inches
Kirkwood Mountain: 94 inches
Sugar Bowl: 75 inches
Boreal Mountain: 71 inches
Homewood Mountain: 69 inches
Heavenly Mountain: 68 inches
Northstar California: 66 inches
Rose: 60 inches
Sierra-at-Tahoe: 53 inches
Granlibakken: 44 inches
Soda Springs: NA
Diamond Peak: NA
Tahoe Donner: NA