Tahoe Ski World Commentary on Eileen Gu
There used to be something often referred to as the Olympic spirit.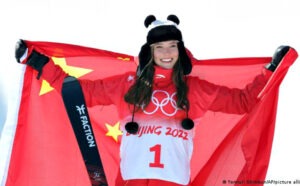 I had it as a kid, maintained it through much of adulthood. yet found myself becoming much more cynical in the past few decades.
The Olympic spirit was demonstrated when spectators applauded all the competitors, not just the winners or the athletes representing only their country.
There was tremendous respect shown for these special athletes who dedicated themselves during a long, arduous climb to reach the Olympic level.
Regardless of how they did in this once-every-four-year worldwide extravaganza, we respected them for their perseverance, regardless of how they fared.
For the most part, I try to keep that Olympic spirit of my youth alive when viewing the Games. Yet over the past two weeks I still found myself strongly rooting for the failure Eileen Gu, an American born-and-raised skier who chose to toss her native country aside, and ski for a reprehensible country like China.
Gu's allegiance to China certainly hasn't gone unnoticed. TV host Bill Maher, a noted s comedian, actor and political commentator, said "She chose to represent a totalitarian police state over America!"
Walking the tightrope, Gu has said – "When I'm in the U.S. I'm American, but when I'm in China I'm Chinese."
Maher and I probably weren't the only ones wishing Gu would fail miserably at the Olympics. Of course, it was just the opposite; she will depart the Beijing Games with two gold medals and one silver.
Frankly, she appalls me. Born and raised in privilege in San Francisco, the 18-year-old Gu learned to ski in Tahoe, specifically at Northstar California ski resort.
Despite her U.S. ties, she apparently had no problem turning her back on her country, reportedly abandoning her U.S. citizenship – there is no record of Gu having renounced her American citizenship, but China doesn't allow dual citizenship.
Gu essentially sold out for money to a shameful country like China that treats women poorly and has absolutely no regard for human rights.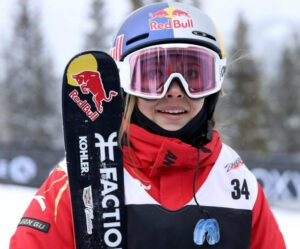 Gu, whose mother is of Chinese descent and father is American, really won't explain in detail why she is skiing for China, other than a lame "I want to serve as a role model for female athletes in China."
Yeah right, some role model! Shame on you Eileen Gu. You are a monumental sellout. Although I love the sport and she's a fabulous skier, I can't stand what I view as her phony rheteric when she's put in front of a camera.
Sure, she earned tons of money skiing under the Chinese flag. But the Stanford University-bound Gu would have gotten pretty rich skiing for good old USA as well.
We're not naïve here. The Olympics has always been political. For far too many countries it's become a proxy war for which country has the best system.
By choosing to represent China, Gu became a highly visible symbol of China's triumph over the west. Yet Gu doesn't appear to let that bother her in the least. Why would she? A Chinese publication estimated Gu's endorsements in China were worth $35 million – and that was prior to her huge Olympic success.
It will never happen, but I wish Stanford would tell Gu no thanks – we don't want you at our prestigious American university.
One could provide excuses for Gu – after all, she's still a teenager. Yet Gu is no typical teen. She's a smart, savvy young person who has obviously chosen the path paved with riches. It's a sad commentary on what the Olympics has become.
So, is the Olympic spirit dead? The answer is no. Yet it can be difficult to find these days, especially when there are athletes like Gu with little or no conscious.