Skiing in Lake Tahoe was officially launched today (Oct. 25) with the opening of Mt. Rose Ski Tahoe.
This was the fourth straight season that Mt. Rose was the first Tahoe-area ski resort to open for the season. Mt. Rose says it's the earliest the resort has ever opened for skiing and snowboarding. The earliest previous date was Oct. 26, 2017.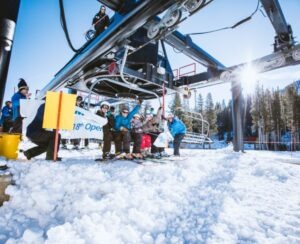 Lift tickets cost a mere $20. Mt Rose is also scheduled to be open Saturday and Sunday (Oct. 26-27). Continuing its tradition of the six-month plus winter season, Mt. Rose will aim for that goal again this year.
After opening weekend, the resort will resume lift operations and open additional terrain as weather and conditions permit.
Located in Nevada off Mt. Rose Highway, Mt. Rose is 25 minutes from Reno and also close to North Lake Tahoe. Continued investments in snowmaking and cold overnight temperatures have combined to give Mt. Rose the opportunity to open early for the 2019-20 season.
Mt. Rose officials say they have been making snow at every opportunity since late September. The resort invested $1.5 million in on-mountain improvements like major snowmaking machines and the resort's new ticketing and lift gate system.
"We're excited to get the winter season underway at Lake Tahoe, and have put our extensive snowmaking system to work to offer skiers and riders their first turns in the region," said Mike Pierce, director of marketing at Mt. Rose Ski Tahoe. "At 8,260 feet, Mt. Rose Ski Tahoe has the highest base area elevation in Tahoe. We're ready to take advantage of this as winter weather moves in so we can open even more terrain as quickly as possible."
Mt. Rose was running one lift – the Wizard – on Friday. The Wizard beginner lift will spin from 9 a.m. to 4 p.m., serving three trails: Merlin, Witches Brew and Spellbound. Over the summer, Mt. Rose continued its commitment to expanding its snowmaking system and will offer access to beginner trails in the Enchanted Forest area that create a wide top-to-bottom run off of the Wizard lift.
The Lodgepole Café and Timbers Bar are open from 8 a.m. to 5 p.m. Ski lessons and 431 Sports will not be available, however skiers and riders can pick-up season leases and purchase season passes. All parking will be at the Main Lodge.
For those who plan to take advantage of one of the longest seasons in Lake Tahoe, Mt. Rose offers convenient access from both Reno and North Lake Tahoe and the freedom to ski with a variety of season pass options ranging from $199 to $725.
For more information visit www.skirose.com regarding resort services, conditions, or to purchase a lift ticket or season pass.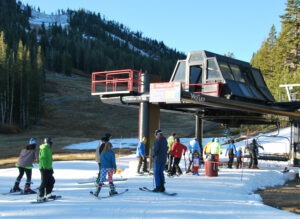 Squaw Valley Alpine Meadows: Cold evenings have returned to the Lake Tahoe region. And Squaw Valley Alpine Meadows is taking advantage of it, announcing late last week it had begun snowmaking operations.
"Temperatures have dropped low enough for us to officially kick off snowmaking at Squaw Valley and Alpine Meadows," spokesperson Liesl Hepburn wrote in an email. "We made snow last night (Oct. 17) into this morning on the upper and lower mountains at Squaw Valley and on the lower mountain at Alpine Meadows."
While Squaw Valley Alpine Meadows is not traditionally the first Tahoe ski resorts to open, they are usually running lifts prior to Thanksgiving. Where the resorts really stand out is staying open while other Tahoe ski resorts have long been closed.
A year ago, the curtain finally came down on the ski season at Squaw Valley on Sunday, July 7, ending the fourth largest season of operating days in the resort's history. The season lasted nearly eight months and there were 212 operating days this season.