Due to the sudden end of the ski season because of the coronavirus pandemic, Sierra-at-Tahoe has reduced prices that are good for Season Pass products for the 2020-21 season.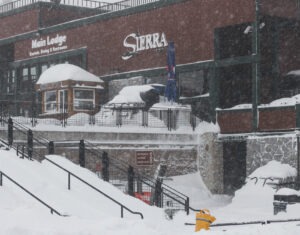 Sierra-at-Tahoe will credit the entire purchase value of any next year's Season Pass product, no questions asked at no cost. Just let the resort know by December 1, 2020 and purchase a pass with confidence knowing that all season pass purchases are protected in the event of any unforeseen circumstances.
In an effort to support those who wish to return to the mountains, Sierra is offering a new comprehensive season pass plan which includes an extended Spring Pass Sale deadline, reduced pricing, exclusive discounts for renewing passholders for 2020-21 Season Passes, credit for unused products and more.
"We've dedicated this time apart to formulate a plan on how we can best move forward together," said Katie Hunter, Sierra-at-Tahoe's Director of Sales and Marketing. "We hope that this plan makes it easier than ever for our Sierra family to return to their mountain home with flexible options and peace of mind."
Sierra-at-Tahoe is located off Highway 50, a few miles east of South Lake Tahoe. The resort has 2,000 acres and 2,212 vertical feet of skiable terrain for skiers and snowboarders
The deadline to purchase a 2020-21 Season Pass for the lowest rate offered has been extended from April 30 through May 31, 2020.
For those with a current 2020-21 Season Pass, Sierra-at-Tahoe is offering:
New Season Pass Renewal Discount
Renewing Season Passholders will receive an exclusive 10% off any 2020/21 Season Pass, providing a total discount of up to 20%
Renewal Pass Bonus Cash
Renewing Season Passholders will also receive up to $25 bonus cash loaded onto their pass to spend at the resort how they choose
Extension of 2019-20 Season Pass
For those with a 2019-20 Season Pass who are not planning to renew for the 2020-21 Winter Season, Sierra-at-Tahoe will be extending skiing and riding privileges through December 20, 2020
For those with an unused 2019-20 ticket product (3-PAK Lift Tickets, single day or affiliate ticket), Sierra-at-Tahoe is offering credit toward a season pass
Those with an unused ticket product (3-PAK Lift Tickets, single day or affiliate ticket), can redeem $30 per unused day towards a 2020-21 Season Pass. To redeem, reach out to passoffice@sierraattahoe.com.