U.S. Olympic teammates Jamie Anderson and Maddie Bowman will be honored Saturday (April 7) at Sierra-at-Tahoe ski resort.
Competing in slopestyle snowboarding, Anderson captured a gold medal at the PyeongChang Olympics in February. She also earned a silver medal in the Big Air competition. The gold medal was a repeat performance for Anderson, who also claimed the top spot in the 2014 Olympics.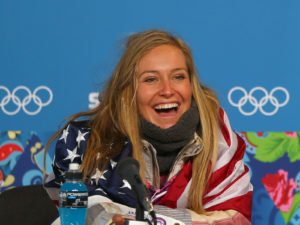 Bowman wasn't as fortunate. Among the favorites to capture gold in freestyling skiing, she frustrating fell three times in the halfpipe and left South Korea without a medal. Bowman was the inaugural gold medal winner when skiing halfpipe debuted four years ago in the Sochi Olympics.
Anderson and Bowman call Sierra-at-Tahoe their home ski resort. Two other notable Sierra products – Hannah Teter, Kyle Smaine – will also be honored Saturday at the South Lake Tahoe ski resort, located off Highway 50. The four winter athletes enjoyed undeniable success in the competitive year, bringing home Olympic Gold and Silver medals, World Championship titles and X Games Gold.
This is a free celebration and includes athlete appearances by Anderson and Teter. All athletes will be honored. Guests are encouraged to bring anything they'd like to have signed.
The celebration will take place on the Solstice Plaza at Sierra's base area and will include autograph signing, speeches by local dignitaries, and silent auction with proceeds going to Protect Our Winters and Jamie Anderson Foundation.
"We are so proud of them for the amazing people and role models they've become. It's an honor that our programs and terrain parks laid the foundation of these athletes to progress to the world stage," said Sierra-at-Tahoe General Manager, John Rice. "We are thrilled to celebrate our champions as they return home to South Lake Tahoe."
Autographs will be available on the Solstice Plaza from 11:30 to noon. Speeches will take place at 12:30 p.m. and a silent auction with Olympic Memorabilia and donations will be held in the Solstice Eatery from 1-3 p.m. Guests can enjoy live music on the Plaza plus great spring skiing all day long.