After disappointing snow totals Saturday (Dec. 12), Tahoe ski resorts received a sizable amount Sunday from the weekend storms that hit the region.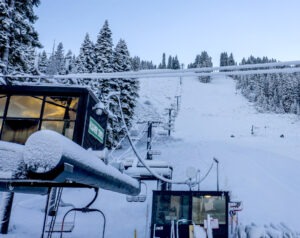 Sierra at Tahoe got 2 inches Friday and 17 inches by Monday morning, recording the most snow among Tahoe ski resorts. All of Tahoe's 14 ski resorts are currently open for skiing and snowboarding.
CHECK OUT TAHOE SNOW REPORT BELOW
"It's certainly looking a lot more like winter on Donner Summit this (Monday) morning, and we're gearing up for what I'd expect to be the best day of the season so far," Sugar Bowl wrote on its website.
The initial Lake Tahoe weather forecast called for much larger snow totals Friday, but when Saturday morning arrived the totals were minimal to none at all Tahoe ski resorts. But Sunday the snow started in the morning and lasted into the early evening.
There were 13 Tahoe ski resorts that received 10 inches or more snow from the weekend storms. Both Squaw Valley (13 inches Sunday) and Diamond Peak recorded 16 inches and Alpine Meadows had 15.
MORE SNOW FOR TAHOE: The next Tahoe storm moves in Wednesday night and continues into Thursday morning. It could drop similar amounts of snow as the Sunday storm, according to Bryan Allegretto, California Snow Forecaster for OpenSnow. The totals could be as much as 18 inches at some resorts.
"Snow levels may start out around 7,000-7,500 feet as precipitation moves in ahead of the cold front Wednesday evening," wrote Allegretto. "But the latest model runs show snow levels possibly dropping below lake level pretty quickly, by around 10 p.m. Ridgetop winds gusting to 60-plus mph, but they could drop Thursday morning with not much effect on lifts with this storm."
The snow will stop sometime Thursday morning and will be followed by dry weather for the weekend.
Allegretto predicts mostly sunny weather for this Monday and Tuesday, followed by increasing clouds arriving Wednesday.
EXTENDED FORECAST: Early next week there may be another storm Tuesday (Dec. 21). Allegretto says the latest model runs are not in agreement with what will happen with this system, but it's over a week out still.
TAHOE SNOW REPORT
Sierra-at-Tahoe: 17 inches
Squaw Valley: 16 inches
Diamond Peak: 16 inches
Alpine Meadows: 15 inches
Heavenly: 14 inches
Boreal: 14 inches
Soda Springs: 14 inches
Homewood: 13 inches
Mt. Rose:13 inches
Northstar: 12 inches
Sugar Bowl: 12 inches
Kirkwood: 10 inches
Tahoe Donner: 10 inches
Granlibakken: NA