One day after a busy Labor Day weekend crowd departs, the eloquent Ritz-Carlton, Lake Tahoe resides in relative tranquility, a tremendous respite at its mid-mountain location on Northstar California ski resort.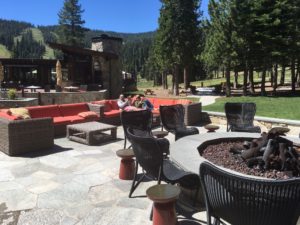 The cool mountain air and gorgeous scenery are two primary reasons to get up early and embark on a hike via the many trails at Northstar.
On this particular morning, the goal is modest, a roughly 3-mile, round-trip trek to Sawmill Lake, a scenic alpine lake that leaves one pretty much alone with nature. Depending on one's pace, the hike can be a good workout or a modest walk in the wooded area.
We're told that Sawmill is too cold for swimming, yet it's a serene location at approximately 7,000 for fishing, illustrated by a pair of fisherman trolling the lake in their canoes. The hike is invigorating and a great way to begin a day of activity at our favorite Lake Tahoe hotel.
The Ritz-Carlton, Lake Tahoe can provide a day of multiple activities or one of total relaxation, thanks to a huge outdoor pool area and a spa that has some unique offerings for a guest seeking the ultimate in a peaceful day of pampering.
The Ritz-Carlton staff and folks in the Lake Tahoe region refer to fall as the "secret season." Winters are well publicized for the terrific skiing and snowboarding at Northstar and more than a dozen other area ski resorts. Tahoe is a veritable winter playground from Thanksgiving through late April.
And sometimes the season goes mcuh later, evidenced by Squaw Valley offering Fourth of July skiing this year, thanks to a record-setting season of snow totals for many resorts.
Summer is ideal for vacationers who want to escape the heat, enjoy boating, swimming and other water activities at one of the country's most beautiful lakes. Golfing, mountain biking and hiking are some of the other preferable summertime pursuits.
But once Labor Day concludes, the Lake Tahoe region belongs to the locals or people savvy enough to know it's a great time of year for a visit – hence the "secret season" designation.
September and October provide quite the contrast to the winter months when Northstar is covered in white sheets of snow with skiers and snowboarders seemingly everywhere. The views and vibe are refreshingly different in the fall, proceeding at a much slower pace at the Ritz-Carlton, where the venerable lake is a mere seven-miles away.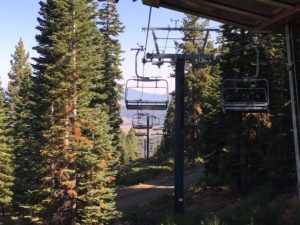 The picturesque, panoramic mountainous view can be seen from practically any room at the stately Ritz-Carlton. Situated near downtown Truckee and Kings Beach, the Ritz-Carlton is a luxury resort that will rest your mind and challenge your body – assuming that's part of your vacation equation.
"Fall is truly an extraordinary time of year in Lake Tahoe," said Bruce Seigel, general manager of The Ritz-Carlton, Lake Tahoe. "Visitors can escape the hustle and bustle of the city and enjoy our private, mid-mountain retreat with bright fall colors and ideal weather. With the ski season just on the horizon, there is no better time or place to immerse in the bold flavors of fall."
Below are a few special things taking place this fall at The Ritz-Carlton, Lake Tahoe.

Culinary Specials: Following the resort's participation in the 32nd annual Lake Tahoe Autumn Food & Wine Festival on September 8-10, guests can continue to experience elevated food and beverage specials in the resort's signature, fine-dining restaurant – Manzanita.
The Flavors of Fall ($85 per person or $105 with wine pairings) is a unique four-course tasting menu crafted by Manzanita Chef Roman Garcia that showcases different seasonal ingredients each month, including foie gras, pumpkin, root vegetables and truffles. Wine aficionados will enjoy Wine Wednesdays, which offers 50-percent off select bottles of wine and a private tour of the wine room when dining at the Manzanita.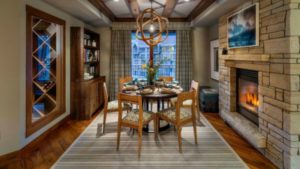 Additionally, the restaurant's Champagne Brunch ($69 per adult and $19 per child ages 3-12) is popular event featuring a seasonally-focused menu with a chilled seafood display, carving station, salads, cheese and charcuterie, along with breakfast favorites and desserts, and an unlimited Moët & Chandon and Bloody Mary Bar.
The resort will also host an Epicurean Weekend on October 7-8. It features a variety of festive activities and culinary events, including Sunday's Pumpkin-Themed Champagne Brunch ($69 per adult and $19 per child age 3-12) and a Pumpkin Patch taking place in The Backyard (à la carte pricing), where guests can pick out pumpkins and participate in make-your-own candy apples, hot apple cider, pumpkin painting and more.
Spa Specials: Throughout the fall season, the hotel will offer several specials for $129 per treatment (Monday through Friday), including a choice of a 50-minute Relaxation Massage, 50-minute Custom Facial, or 85-minute Ultimate Manicure & Ultimate Pedicure.
Seasonal autumn-inspired treatments include the Almond & Pumpkin Body Wrap ($195 for 50 minutes), a soft exfoliation of an almond and mineral scrub followed by a tangy wrap of oranges and pumpkin, then lathered with a honeydew body lotion, and served with organic almond spice tea by Mighty Leaf.
There's also an Almond & Pumpkin Manicure and Pedicure ($75 for 40-minute manicure or $45 for 45-minute pedicure), where hands, feet, and legs are softly exfoliated with an almond and mineral scrub followed by a tangy wrap of oranges and pumpkin, ending with a honeydew body lotion, and served with organic almond spice tea by Mighty Leaf.
Lake Club: The exclusive location is available for leisure use along Lake Tahoe through September. Opened this June, the Lake Club adds an extraordinary new dimension to the Ritz-Carlton, Lake Tahoe, providing guests with an exclusive and elegant waterside venue that has an accompanying host of amenities, including al fresco dining, leisure and water activities, and direct access to the lake.
In the fall, The Ritz-Carlton, Lake Tahoe has rates starting at $229 per room, per night for deluxe guestroom accommodations.
To confirm hotel reservations, visit www.ritzcarlton.com/LakeTahoe or call reservations at 800-241-3333.
###