After shutting down in mid-March due to the coronavirus, Northstar California ski resort will reopen in July for its summer season.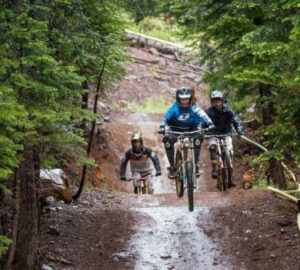 Summer activities open July 3 at Northstar California and will include scenic lift rides on Big Springs Gondola, hiking access, and grab n' go food and drink options from the Lodge at Big Springs.
The Northstar Bike Park will open with select trails July 10. Riders are encouraged to pre-purchase a season bike haul pass or day tickets to access a range of beginner to expert rated trails via the Big Springs Gondola and the Zephyr Express chairlift. The Northstar Golf Course will open July 15.
"We look forward to welcoming Northstar guests back to enjoy family-friendly activities such as hiking, biking and golfing in beautiful North Lake Tahoe," said Deirdra Walsh, vice president and general manager of Northstar California. "Our expansive, open-air environment provides an ideal location for families to physically distance while we enjoy the activities that draw us together at this special place."
Last week, two other Vail Resort properties in Lake Tahoe – Heavenly Mountain and Kirkwood Mountain – shared their operating plans as well as their commitment to safety amid the COVID-19 pandemic.
Heavenly, known for views of Lake Tahoe, will open on July 3 for sightseeing and hiking via the Heavenly Gondola, with the Ridge Rider Coaster and Tamarack Express Chairlift expected to open shortly thereafter. Kirkwood is currently open for human-powered activities (no lift access), similar to years past.
Vail Resorts established certain guidelines across all of its resorts and properties in North America. The safety initiations include physical distancing protocols, face covering requirements, enhanced cleaning measures, employee health screenings, safety training, cashless transactions, and revisions to regularly offered programs and services.
Each resort and property have enacted a unique operating plan that aligns with these guidelines that was developed in consultation with state and local health officials.
Similar to the Skier Responsibility Code, Vail Resorts asks guests and employees to take on a new level of personal accountability to ensure the safety of its mountain communities.
Northstar California Resort (open Thursday through Sunday, July 3 to Oct. 4*)
Scenic Big Springs Gondola rides and hiking trail access beginning July 3 (no hiking access via Zephyr Express until July 10)
Zephyr Express chairlift open for bike hauls and scenic hiking, beginning July 10
 Advanced purchase for the Northstar Bike Park, scenic gondola rides and hiking are recommended (additional details available on www.NorthstarCalifornia.com in coming weeks)
Northstar Bike Park open July 10 with select trails, from less difficult to expert
 Additional details on what trails will be available will be provided closer to opening day
 The Bike Park plans to operate the majority of trails throughout the season – subject to change – and expects to open with segments of its most popular trails, including Livewire, Coaster and Tryumph
 Intermittent trail closures will be encountered around the Vista Express lift area between August and October as Northstar carries out forest health and snowmaking improvements
 In order remain in compliance with physical distancing protocols, while also providing guests with the best possible riding experience, Northstar will have a daily maximum on the number of tickets sold for the bike park – advanced purchase recommended
Northstar Golf Course opening July 15
Grab 'n go food and drink options at Lodge at Big Springs and "The Turn" at Northstar Golf Course
*Beginning Aug. 16, Northstar will operate Friday through Sunday until closing day
Heavenly Mountain Resort (open daily July 3 to Sept. 7)
Heavenly Gondola and Tamarack Express Chairlift*
Hiking Trails
Ridge Rider Mountain Coaster (targeting July 3, date subject to change)
Grab 'n go food and drink options at Café Blue and Tamarack Lodge
*Tamarack Express Chairlift (targeting July 15, date subject to change)
Kirkwood Mountain Resort (open now for human-powered activities)
General Store
Hiking and Biking trails (no lift access)
Disc Golf
Visitors must pack it in and pack it out