It's a beautiful, crisp late morning at Northstar California ski resort in Lake Tahoe. Hungry for lunch, it's time to take off the skis and hunt for a suitable location.
If you happen to be looking for something a little different, a new offering is at The Ritz-Carlton, Lake Tahoe, where a very cool outdoor barbeque restaurant opened this season near the mid-mountain point at Northstar ski resort.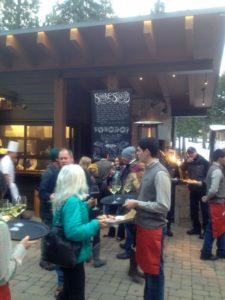 Tables are available for seating or one can eat at the bar and perhaps have a hot toddy while waiting for a BBQ lunch.
The Ritz-Carlton, Lake Tahoe opened its new slope-side, The Backyard Bar & BBQ outdoor restaurant in December. The restaurant is located on the back patio of the luxury Lake Tahoe resort hotel.
BBQ restaurant's origin
The idea for the restaurant originated from Joseph Mattioli, the creative and energetic general manager of The Ritz-Carlton, Lake Tahoe.
With an extensive food background, the former Ritz-Carlton head chef envisioned a tasty BBQ restaurant that would be a nice addition to complement the Manzanita, an indoor restaurant that also serves lunch and has a terrific breakfast and dinner menu.
"The introduction of The Backyard Bar & BBQ gives resort guests, and skiers and riders at Northstar California the opportunity to enjoy new mouth-watering menu selections immediately as they step off the slopes," said Mattioli, a very hands-on GM who was delivering food on a recent busy Saturday in February. "With stunning views of the mountain offered from the back patio and daily après ski specials, it is sure to become a new favorite spot to stop for lunch or end the day on the mountain."
Traditional BBQ favorites
Traditional BBQ and wood-fired oven-baked pizza favorites, daily après ski specials and seasonal drinks are staples on the restaurant's menu.
The restaurant's "blues, brews and BBQ" concept includes traditional BBQ favorites such as smoked ribs offered in full or half rack, a beef brisket sandwich, the "Yard Bird," a half chicken smoked with the on-site smoker, garden veggie, cheese and BBQ chicken wood-fired pizzas, house-made sides including pit smoked pork beans, tossed greens and a selection of desserts.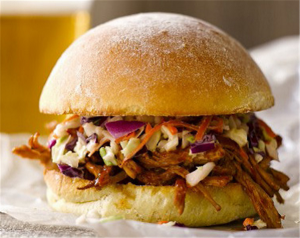 "It's a terrific place to have lunch, whether you're staying at The Ritz-Carlton, Lake Tahoe or stopping during a day of skiing or riding at Northstar," said D.J. Brown, who had lunch in early February. "There's a lot of variety on the menu and anyone who enjoys tasty barbecued items will love the selections at The Backyard Bar & BBQ."
Menu items range in price from $15-$25, and a seasonal beverage program with saloon-inspired cocktails and local craft beer selections are also available.
Daily specials from 4-6 p.m.
During the spring ski season, the restaurant will offer daily après ski food and beverage specials from 4-6 p.m., including half-priced flatbreads and buckets of six beers for $20. Casual outdoor cookouts will take place during the summer months, which are perfect for Lake Tahoe family vacationers.
Designed by Lake Tahoe-based Ward-Young Architecture & Planning, The Backyard Bar & BBQ offers walk-up counter food service and a full bar. The restaurant is open daily from 11 a.m. to 6 p.m.
Manzanita Restaurant
The in-house restaurant at The Ritz-Carlton, Lake Tahoe is open most of the day, serving breakfast, lunch and dinner. A recently designed menu has some truly unique dishes throughout the day.
A California cuisine restaurant, the Manzanita offers a regional mountain resort influence, sourcing organic, sustainable and locally grown meat and produce when possible.
The dinner menu includes some succulent scallops, several meat dishes with a unique flavor that are tenderly cooked and perfectly seasoned. One of the Manzanita's specialties is the 12-hour Bordeaux braised short rib and the mid-west prime rib is a good choice as well.
For fish lovers, the choices include a delicious black cod and the unusual SkunaBay salmon chowder. There's also a wide variety of appetizers, side dishes and desserts.
The Manzanita also offers some terrific ambiance, with large windows that provide outstanding views of the mountain. The design radiates warmth and the kitchen is open and visible from all vantage points in the restaurant.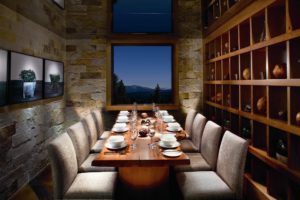 Visit www.ritzcarlton.com/LakeTahoe or call 800-241-3333 for more information on The Ritz-Carlton, Lake Tahoe.