Mt. Rose ski resort near Lake Tahoe is making a significant investment in improving its snowmaking capability for the 2018-19 ski season.
Located 25 minutes from Reno, Mt. Rose is in the midst of another $2 million in capital projects, designed to improve its mountain facilities and enhance the overall guest experience at the resort during the 2018-19 winter season and beyond.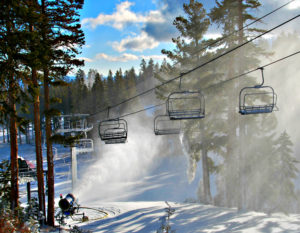 Projects currently underway will build on the significant investments made over the past several years at the Nevada ski resort, including over $2 million last summer. Resort officials are committed to enhancing the already robust snowmaking system and making facility improvements at the main lodge and parking areas.
Early season operations continue to be a top priority at Mt. Rose, which traditionally has a strong commitment to offering superior quality snow surfaces all season long. Major snowmaking construction includes the installation of 17 new snowmaking towers complemented by increased firepower via additional high capacity pumps.
The resort is also adding to its snow grooming fleet, bringing the latest, most efficient technology to the mountain. Facility improvements underway include parking lot upgrades (including a new staircase to Lot 5), restroom remodels, and new resort signage including four state-of-the-art LED lift signs.
"Our intention is to offer our guests incredible value and to continue making investments that will enhance their experience each and every time they visit Mt. Rose Ski Tahoe," said Mike Pierce, director of marketing at Mt. Rose. "The improvements we've made over the past several years to our snowmaking system, lift network and base facilities have all contributed to our ability to reliably offer a six-plus month season. Our goal is to keep that trend going."
The resort is scheduled to begin operations for the 2018-19 season on Oct. 26. Mt. Rose plans to once again be the first resort to open in the Lake Tahoe region, and to offer yet another extended winter season with over six months of turns.
Mt. Rose's 8,260-foot base elevation, combined with an even more substantial snowmaking system, offers a competitive advantage and will continue to allow skiers and snowboarders to experience some of the best snow conditions in Tahoe all winter and into late spring.
The resort's 1,200 acres feature an ample variety of runs ideal for every level of skier and snowboarder. The Chutes offer 1,500 vertical feet of north/east facing extreme terrain with some of the longest continuous vertical in North America (40 to 55 degree runs for over 1,000 feet).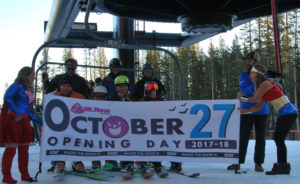 For those who plan to take advantage of one of the longest seasons in Lake Tahoe, Mt. Rose offers convenient access from both Reno and North Lake Tahoe and the freedom to ski with a variety of season pass options.
New passes to the resort's already successful mix include the MY Pass +(2 days midweek) as well as well as the Midweek+ (Sunday through Friday). With season pass options ranging from $199-$599, skiers and riders will have access to the best available rates through September 2018.
Learn more about Mt. Rose Ski Tahoe or purchase a 2018-19 winter season pass at www.skirose.com.