Thousands of Thanksgiving holiday skiers and snowboarders have gotten to ride the newest chairlift at Mt. Rose ski resort – the Lakeview Express.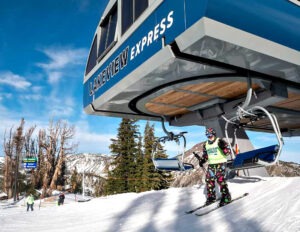 Mt. Rose debuted the new Lakeview Express chair on Friday (Nov. 25). The new lift is part of $7.5 million in offseason improvements at Mt. Rose, making the new lift the largest project in the resort's history.
"Today was the great day. We opened our Lakeview Express; it was the grand opening of that chair, which now gives us two high-speed lifts. So far, we are having a great start to the season," said Mike Pierce, Marketing Director Mount Rose Ski Tahoe.
Thanks to low temperatures, Mt. Rose has good early-season conditions. A sizable snow in early November helped kick-start the opening of the ski season for Mt. Rose. Boreal Mountain and Mt. Rose both began running lifts Nov. 11, making them the first Tahoe ski resorts to offer skiing and snowboarding for the 2022-23 season.
The Lakeside Express lift is the second high-speed chair on the main side of the mountain, providing more choices and a better flow for skiers and riders across the mountain. The increased capacity (now 2,400 people per hour) will add comfort and improve traffic flow from the upper mountain and reduce lower-level skiers on the Northwest Chair.
The new chairlift is longer than its predecessor and rises 1,056 vertical feet, giving better access to new and existing runs. The quad lift cuts 6 minutes off the previous ride time.
Lakeside Express offers Lake Tahoe views from the top of the lift with access to beginner terrain, without having to ride Northwest Chair to the summit. It's suitable for low-level and intermediate skiers and snowboarders, and is the preferred route to access the popular Around the World trail.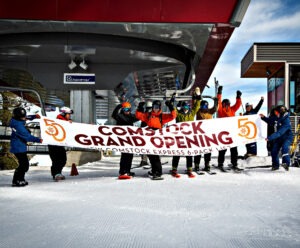 For more information or to purchase a Mt. Rose season pass or daily lift tickets, visit twww.skirose.com.
NORTHSTAR UPGRADES COMSTOCK LIFT: Skiers and snowboarders who frequent Northstar were happy to see the new high-speed 6-person chairlift that the resort staged a ribbon-cutting grand opening for Friday.
Located in Truckee on Lake Tahoe's north shore, Northstar adds the upgraded Comstock Express lift as it enters its 50th anniversary season.
This summer, Northstar replaced its 33-year-old workhorse that's located at mid-mountain. The new Comstock lift will increase the flow of skiers and riders through the hub of the mountain and up to the summit, where they can access all the zones on the mountain.
The lift was upgraded from a 4-person chair and is designed to reduce wait times at one of the mountain's most popular lifts. Northstar says the upgrade will increase uphill capacity by nearly 50 percent. The new Comstock lift will be the third lift to have this alignment.
TAHOE SKI RESORT OPENING DATES
Mt. Rose: Open Nov. 11
Boreal: Open Nov. 11
Northstar: Open Nov. 12
Heavenly: Open Nov. 12
Kirkwood: Open Nov. 12
Palisades: Open Nov. 18
Sugar Bowl: Open Nov. 25
Soda Springs: Open Nov. 25
Sierra-at-Tahoe: Dec. 3
Diamond Peak: Dec. 3
Tahoe Donner: Dec. 9
Homewood: Dec. 16
Granlibakken: Dec. 18