The 2021-22 ski season is not going out quietly at Tahoe ski resorts.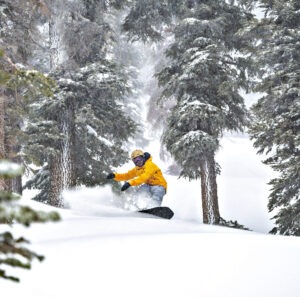 The Lake Tahoe region received snow overnight Wednesday and the white stuff is expected to continue falling for much of Thursday.
While snow totals were modest Thursday morning and likely to not be too high by Friday morning, it still beats the recent weather pattern – unseasonably high temperatures that resulted in melting snow.
Eight Tahoe ski resorts were reporting between 1-5 inches of new snow Thursday morning.
TAHOE SKI RESORT SNOW TOTALS, CLOSING DATES BELOW
Sugar Bowl received 5 inches of snow at its summit Thursday morning after getting 9 inches earlier in the week. The resort, located a few miles off Interstate 80 at the Norden exit, expects at least another 5 inches by Friday morning.
"Another round of snowfall came in overnight, delivering 4-5 inches of snowfall," a report on the Sugar Bowl website stated. "The snow density is very light, so we expect some nice blower turns out there. The snow is expected to fall all day, picking up another 5 inches."
Four Tahoe ski resorts closed for the season April 10 and six more are scheduled to close Easter Sunday (April 17).
The chilly air and snowfall this week have unfortunately been accompanied by winds that gusted upwards of 100 mph on some of the region's ridges. On Wednesday morning, several chairlifts at ski areas were on wind hold.
Due to Thursday's high winds, both Heavenly and Mt. Rose closed for the day.
SIERRA SNOWPACK: While the Sierra snowpack measured a disappointing 38% of average April 1, Tahoe ski resorts have reported snow totals between 65% and 91% of their season averages, according to OpenSnow.com.
North Tahoe resorts tended to be at the higher end of that range, while Heavenly and Kirkwood in the South Tahoe area came in lower.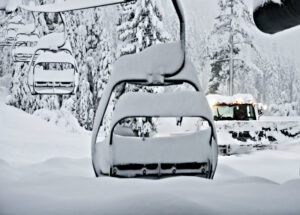 This winter was another unpredictable and frustrating one for Tahoe ski resorts. An early-season dump in October allowed some ski areas to open before Halloween, a rarity.
However, a totally dry November with no snow was followed by an historic December that delivered as much as 16 feet of snow to some Tahoe ski resorts, shattering 50-year records for snow totals.
TAHOE SKI RESORT SNOW TOTALS, CLOSING DATES
Sugar Bowl: 5 inches, April 17
Palisades: 4 inches, May 1
Boreal: 4 inches, April 17
Soda Springs: 4 inches, April 17
Heavenly: 2 inches, April 24
Kirkwood: 2 inches, May 1
Alpine Meadows: 4 inches, May 1
Northstar: 2 inches, April 17
Mt. Rose: 0 inches, April 17
Granlibakken: NA, April 17
Tahoe Donner: Closed April 10
Diamond Peak: Closed April 10
Sierra-at-Tahoe: Closed April 10
Homewood: Closed April 10