Thanks to an unexpected large of amount of early-season snow, Mammoth Mountain ski resort will be opening two weeks early, firing up its lifts Friday (Oct. 29).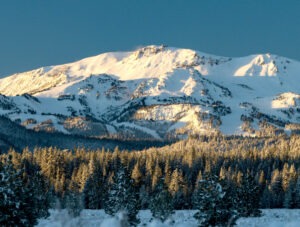 Mammoth Mountain and Palisades Tahoe (formerly Squaw Valley Alpine Meadows) and will likely be the first California ski resorts to open for the 2021-22 season.
Mammoth is located in Mammoth Lakes, along the 395 corridor in the Eastern Sierra mountain range. Drive time is approximately five hours north of Los Angeles and three hours south of Reno.
Last ski season, Mammoth was the first California ski resort to open (Nov. 13). This will mark one of the earliest openings in Palisades' history. It received 39 inches of new snow by Monday morning, allowing the resort to open almost a month earlier than planned.
Mammoth will have 2-plus feet of fresh October snow covering its sizable mountain. However, it is cautioning skiers and snowboarders to respect the conditions.
"We ask that visitors remember that these are early-season conditions and obstacles exist. Please stay on open trails and be aware of conditions as they change," Mammoth wrote in a media advisory.
AVAILABLE TERRAIN: Mammoth plans to open the following four lifts – Broadway Express, Face Lift Express, Discovery Chair and the Panorama Gondola to McCoy Station.
The lifts will provide access to at least seven runs and a small terrain park setup in lower Main Park. Pending weather the next few days, Mammoth may also be able to provide access to Cornice Bowl and Road Runner.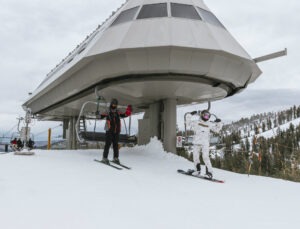 COSTUME CONTEST: Mammoth is encouraging skiers and riders to dress up in a hard rock/metal-themed costume for a chance to win a prize pack. Follow on social @MammothMountain for details.
The first 50 guests who stop by Mammoth Sports at the Main Lodge and spend $125 will get a free commemorative T-shirt. Shirts are also available for purchase for $25 – while supplies last.
TAHOE SKI RESORTS: According to Bryan Allegretto, California Snow Forecaster for OpenSnow, the Tahoe region is now close to 500-percent of average snowfall for the date.
Mt. Rose reported the most snow among Tahoe ski resorts from a storm that started Sunday night and concluded some time Monday morning. Located off the Mt. Rose Highway in Nevada, Mt. Rose received 42 inches of fresh snow.
SEE TAHOE SNOW REPORT BELOW FOR RESORT TOTALS
Palisades nearly matched Mt Rose, getting 39 inches. Seven other Tahoe ski resorts were reporting large totals from the first big snow storm since early in 2021.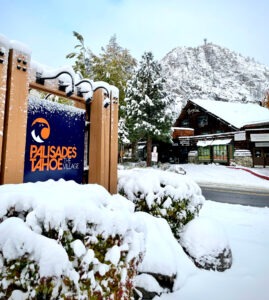 Four ski resorts – Sugar Bowl, Boreal Mountain, Homewood Mountain, Northstar California – got 3 feet (36 inches) of snow. Not far behind were Diamond Peak with 30 inches and Alpine Meadows with 27.
PALISADES TERRAIN: Skiers and snowboarders will be able to ski the upper mountain on Opening Day. The resort plans to open the Funitel, Gold Coast Express and Shirley Lake Express.
Grooming will be limited, and more lifts may be added to the schedule as Palisades operations teams continue to assess the mountain following the storm.
Palisades Tahoe will operate Fridays through Sundays, weather and conditions permitting, until daily operations start Wednesday, Nov. 24. Early season lifts will operate from 9 a.m. to 3 pm.
WEATHER FORECAST: Allegretto expects the weather to be mostly sunny and warming Thursday and Friday, with a chance of showers Saturday. It will be dry again Sunday into Monday.
Another chance for showers comes Monday night into Tuesday. Expect it to be dry the middle of next week, followed by possibly a more active pattern starting around the Nov. 5.
TAHOE SNOW REPORT (October 26)
Mt. Rose: 42 inches
Squaw Valley: 39 inches
Sugar Bowl: 36 inches
Boreal: 36 inches
Northstar: 36 inches
Homewood: 36 inches
Diamond Peak: 30 inches
Alpine Meadows: 27 inches
Sierra-at-Tahoe: NA
Kirkwood: NA
Soda Springs: NA
Heavenly: NA
Tahoe Donner: NA