Mammoth Mountain will open Friday, Nov. 13, becoming the first California ski resort to open for skiing and snowboarding in the 2020-21 season.
Mammoth Mountain, which was originally scheduled to open one day later on Saturday, had a significant snowfall last weekend, giving the resort 12-18 inches of fresh snow. The ski resort has also been making snow this month.
The resort will be opening from 8:30 a.m. to 4 p.m., running chairlifts 1, 2, 3, 6 & 11, which is more than usual at this time of year, according to Mammoth spokesman Tim LeRoy.
Mammoth Mountain is located in Mammoth Lakes, along California's Highway 395 corridor in the Eastern Sierra. Drive time is approximately five hours north of Los Angeles and three hours south of Reno, Nevada and the Lake Tahoe region.
Opening day tickets sold out: Skiers and riders who plan on coming for the opener will be turned away due to coronavirus precautions against sizable crowds.
There are no walk-up ticket sales this season – they have to be pre-bought online. Tickets for opening weekend are now SOLD OUT, but an alternative is to purchase an Ikon season pass. Passes retail between $499 and $1,149.
As of now, Mammoth Mountain officials say skiers and riders with a season pass will not need to make a reservation. However, be aware that this could change at any time during the season.
Coronavirus precautions: For those heading to Mammoth, the resort has implemented a series of new health and safety rules for the 2020-2021 season because of the COVID-19 pandemic, including physical distancing measures.
Guests will also be required to wear face masks indoors, in lines and on lifts, gondolas and shuttles. However, the facial coverings can't be perforated or ventilated, and thin, single-layer neck gaiter styles are not permitted, Mammoth officials said.
There will be additional hand washing and sanitizing stations located throughout the resort. Additionally, high-touch points and areas with high traffic will undergo more frequent disinfecting.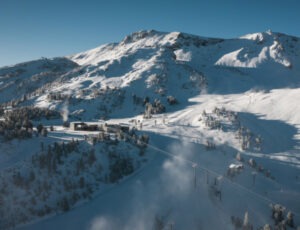 Weather forecast: Friday is expected to be a mix of sun with some clouds. There is a 20-percent chance of a few snow showers. Temperature highs will be into the mid-to-upper 30s.
On Saturday, expect very windy conditions during the morning hours with a west wind of 35 to 45 mph that's decreasing to 25 to 35 mph in the afternoon. Highs will be in upper 30s.
Sunday is now expected to be mostly sunny with a few clouds around. Temperatures should be in the low-to-mid-40s at the Main Lodge. Winds speed on Sunday are expected to be in the 5-10 mph range.
Lodging: Be aware that the town of Mammoth has lodging restrictions at 70-percent maximum occupancy for hotels and a 24-hour gap in reservations for short-term rentals. You MUST have reservations made before arrival.
TAHOE SKI RESORT OPENINGS
Heavenly: November 20
Northstar: November 20
Squaw Valley: November 25
Alpine Meadows: November 25
Sugar Bowl: November 27
Diamond Peak: December 10
Homewood: December 11
Tahoe Donner: December 11
Granlibakken: December 18
Mt. Rose: TBA