When vacationing in scenic Lake Almanor, the focus naturally centers around what can be enjoyed on the eighth largest lake in California (28,257 acres).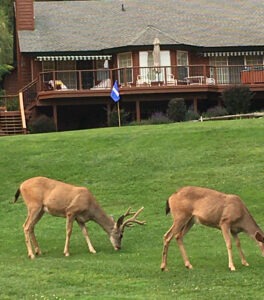 The list of water activities is immense, and includes boating, kayaking, canoeing, water skiing, jet skiing, wake boarding, tubing, sailing, fishing, and swimming.
If looking for something to do on land, the golf options are good as well. One of those options is the Lake Almanor Country Club Golf Course, which is open to the public this year through Oct. 31.
Located practically on the shores of the humongous man-made lake, the Lake Almanor course resides at roughly 4,500 feet elevation and is a fine 9-hole track that golfers like so much that they often play it twice.
The beauty of the course is evident before one even starts their round. Lake Almanor CC is situated amidst numerous towering pine trees and features many gorgeous views. Designed by Homer Flynt, the golf course opened in 1973 and even on busy days is fairly serene.
The sheer beauty includes views of the nearby Cascade Mountain range and striking Lassen Peak, an active volcano that measures 10,457 feet and is about 50 miles away. Deer can appear practically anywhere on a course that is lined with many beautiful homes that are mostly situated far enough away that even an errant shot won't hit them.
Measuring a relatively short 2,919 yards from the tips, the par-36 Lake Almanor CC track is no pushover, evidenced by its slope rating of 126. Going around a second time, the course can take on a little different look and strategic approach by playing different tees.
Couples golf is popular and groups of women often frequent Lake Almanor CC as well. This distance – 2,746 yards for 9 holes – can prove too long and demanding for some women. The first 9 is a par-37 and the second time around is a bit shorter, measuring 5,433 yards for 18 holes and a par-73.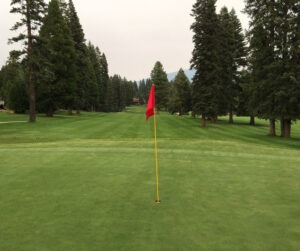 Lake Almanor puts a premium on driving the ball straight. The rough can be penalizing, due to the height of the grass, and trees often become an obstacle on wayward drives. The greens are well kept and roll straight, but some of the undulations and undetected breaks can present major obstacles.
"The course is short and sweet. You need to choose your clubs carefully and pick your way around it," Lake Almanor CC head pro Bob Haney said. "Our greens are very challenging. If you're on the wrong side it can be troublesome."
Covid-19 precautions were still being practiced in late August. The pandemic was impacting the restaurant, but take-out food was still available, ranging from a burger to a tasty Rib-Eye.
Green fees with cart for nonmembers is $32 ($22 to walk) for 9 holes and $62 ($47 walking) for 18.
For more information, contact the pro shop at 530 259-2868.