Kirkwood Mountain ski resort has received 92 inches of snow, highlighting how the snow totals keep piling up at Tahoe ski resorts.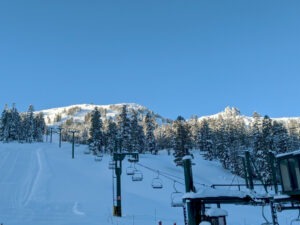 Do the delight of skiers and snowboarders, it has been snowing substantially over the past week in the Lake Tahoe region and more snow is coming down Wednesday (Dec. 4). The forecast is calling for snow through the weekend.
After a slow start to the ski season, entering this week there were 10 Tahoe ski resorts open for the 2019-20 season. There were six Tahoe ski resorts open Thanksgiving Day – Squaw Valley, Heavenly Mountain, Mt. Rose, Boreal Mountain, Alpine Meadows, and Soda Springs. Four more resorts opened Friday (Nov. 29) – Sugar Bowl, Sierra-at-Tahoe and two Vail Resorts, Kirkwood Mountain and Northstar California.
Sugar Bowl was able to open earlier than expected, thanks to the recent days of stormy weather at Tahoe ski resorts.
"The cold winter storms we received over the Thanksgiving holiday set us up well for an incredible opening day, and helped us offer awesome early season conditions to skiers and riders who came up to celebrate the holiday weekend," said Jon Slaughter, executive director of marketing and sales at Sugar Bowl. "Based on the forecasts we're seeing, it appears the storm door has opened, and there's much more snow in the forecast. We anticipate this will allow our teams to get even more terrain open quickly offering top-to-bottom skiing."
Kirkwood Mountain has recorded the most snow among Tahoe ski resorts in the past week. It had over 7 feet during that timespan and has 104 inches for the season. Two other Vail Resorts have enjoyed great early-season snow totals. Heavenly Mountain has received 55 inches the past week and has 86 inches overall. On Tahoe's north shore, Northstar California got 81 inches over the past week.
Squaw Valley Alpine Meadows has also watched its snow totals continue to mount. Squaw received 62 inches over past week and Alpine Meadows had 57 inches. On Wednesday (Dec. 4), the Roundhouse lift was opened at Alpine Meadows. The resort has 10 lifts and 33 trails open across both mountains.
"It's been exactly one week since snow started falling here at Squaw Valley Alpine Meadows and we are now up to 80 inches, or nearly 7 feet, of snow on the upper mountain at Squaw Valley," said resort spokesperson Liesl Hepburn. "That's an average foot of snowfall per day. Yesterday (Dec. 3) we opened the brand new $11 million Treeline Cirque chairlift at Alpine Meadows to the mid-station."
Sierra-at-Tahoe has gotten 70 inches of snow over the seven-day period, while Sugar Bowl has received 49 inches and Mt. Rose got 41.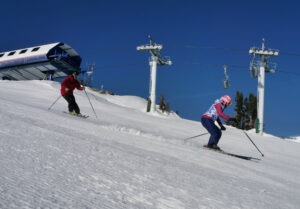 Diamond Peak Opening: Thanks to more than 3 feet of snow that arrived over the past week, Diamond Peak will open early, running its lifts for the first time Saturday, Dec. 7.
Mt. Rose opens more terrain: Significant weekend snowfall allowed the Nevada-based resort near Incline Village to open the Slide Bowl side on Wednesday, including the Blazing Zephyr 6 chairlift and the Winters Creek Lodge.
"In typical Tahoe fashion, winter arrived with a bang this past weekend, and that means we can get more of the mountain open for skiers and riders to explore," said Mike Pierce, Mt. Rose Ski Tahoe marketing director. "Mt. Rose Ski Tahoe benefits from having the highest base area elevation of any Tahoe resort, meaning we're already offering top-to-bottom, front-to-back skiing and riding and it's only the beginning of December."
OPENING DATES TAHOE SKI RESORTS (all dates are weather dependent)
Mt. Rose: Opened October 25
Squaw Valley: Opened November 15
Alpine Meadows: Opened November 15
Boreal Mountain: Opened November 23
Heavenly Mountain: Opened November 27
Soda Springs: Opened November 28
Sugar Bowl: Opened November 29
Northstar California: Opened November 29
Kirkwood Mountain: Opened November 29
Sierra-at-Tahoe: Opened November 30
Homewood Mountain: December 6
Diamond Peak: December 7
Granlibakken: December 13
Tahoe Donner: December 13