Northern California fans of multi-talented Justin Timberlake will be happy to know he's returning to Lake Tahoe this summer.
For the third consecutive year, the actor and musician will join star athletes and entertainers at the American Century Championship celebrity golf tournament in South Lake Tahoe. The highly-decorated performer is an avid golfer who plays to a 4-handicap.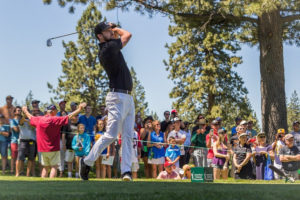 Timberlake will join an already-impressive lineup of 90 sports and entertainment celebrities, including TNT NBA analyst Charles Barkley, former Dallas Cowboys quarterback Tony Romo, Green Bay Packers quarterback Aaron Rodgers, newly-retired former NFL standout and Heisman Trophy winner Charles Woodson, and a host of current pro athletes, including numerous NFL and MLB  Hall of Famers.
The 28th annual tournament has raised more than $4 million for multiple national and area charities. Admission is free to military personnel and guests.
With major television exposure (NBC Sports, NBCSN, Golf Channel) and a purse of $600,000, the American Century Championship is the most prestigious celebrity tournament in golf. The 2017 event tees off Friday July 14 and concludes Sunday at Edgewood Tahoe Golf Course, a Golf Digest Top 100 rated course on the shores of the largest alpine lake in North America.
A major favorite of the 40,000-plus galleries at Edgewood Tahoe, Timberlake was paired with Steph Curry and Alfonso Ribeiro. Last year the threesome lit up the lakeside venue with quality golf and entertaining antics throughout. Timberlake finished last year's tournament in 21st place with 35 points in the modified Stableford format. In 2015, he finished in 34th place with 20 points.
One of today's most successful recording artists, Timberlake's work has earned him 10 Grammy Awards and four Emmy Awards.  As an actor, Timberlake has starred in such acclaimed films as the Academy Award-nominated The Social Network as well as hit movies, including Friends With Benefits, Bad Teacher, Trouble With The Curve and Inside Llewelyn Davis.
This year Timberlake received his first Oscar nomination for the song "Can't Stop the Feeling!" in the movie Trolls and he performed the song as the popular TV broadcast's opening act. "Can't Stop the Feeling!" also reached #1 on Billboard's Hot 100 in 2016.  In 2013, he released his album The 20/20 Experience – The Complete Experience, which became the best-selling album of the year. Time Magazine named Timberlake one of the 100 most influential people in the world in 2007 and 2013.
Other prominent competitors chasing the $125,000 first prize include John Elway, Marshall Faulk, Roger Clemens, Jerry Rice, Larry the Cable Guy, and two-time defending champion Mark Mulder.  First time NFL competitors will include Woodson, Travis Kelce, Doug Pederson, Mike Zimmer and Adam Thielen. The annual tournament acts as a final respite before the opening of NFL training camps each year.
For tournament information, visit www.AmericanCenturyChampionship.com. For information about South Lake Tahoe, call 1-800-288-2463 or visit www.TahoeSouth.com.