The snow has subsided – for now – leaving behind some incredible snow totals at Tahoe ski resorts.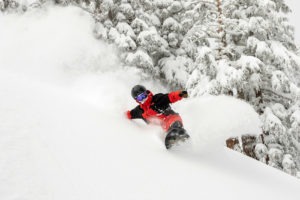 Leading the way was Homewood Mountain, which had the most snow among the Tahoe ski resorts, getting 100 inches (8¼ feet) from the recent storms. The family-friendly ski resort on Tahoe's West Shore now has 297 inches of snow this season.
Homewood was the only Tahoe ski resort to reach triple digits. However, several other Tahoe ski resorts weren't far behind. Six of Lake Tahoe's 14 ski resorts got 80 or more inches from the five-day storm, which began Friday (Feb. 1) and concluded Tuesday. Skiing Lake Tahoe will be epic the next few days prior to another storm system arriving Friday (Feb. 8).
"To say we're loving all the powder turns is an understatement – we're over the moon right now," said Carol Chaplin, president and CEO of the Lake Tahoe Visitors Authority. "Tahoe looks stunning all dressed in white. And the outfit will still be looking good for Valentine's Day and President's Week."
See the Tahoe Snow Report below.
Due to the severe weather that featured high winds, hazardous driving conditions and avalanche issues, many resorts were shut down completely or only running a few lifts during the five days of storms. But the wait was worth it. Skiers and snowboarders were out in force at Tahoe ski resorts Wednesday (Feb. 6), enjoying a glorious powder day.
"After receiving 7 feet of snow from this storm, you can bet that people were eager to get out on the mountain today. People knew there was still plenty of fresh powder to be had, and they came out in droves to get a piece today," said Squaw Valley Alpine Meadows spokesperson Alex Spychalsky. "Tomorrow, we are scheduled to open Silverado at 9 a.m., so I'm sure we'll see similar numbers as today."
Squaw Valley Alpine Meadows was among the primary benefactors of the storm, recording 7 feet of new snow. It leads the region in snow totals for the season with 341 inches.
Located off Interstate 80 at the Norden exit, Sugar Bowl got 80 inches of snow, increasing its season-total to 315 inches. Tahoe skiing was off the charts Wednesday.
"We saw fantastic levels of skiers and riders, thanks to the beautiful weather and clear roads," said Sugar Bowl spokesperson Jon Slaughter. "I anticipate Thursday being even busier since the sun will be shining and many skiers and riders will be treated to some of the best conditions possible. Cold temps are keeping the snow light and fluffy."
Skiers and riders at the Vail Resorts in Tahoe – Northstar California, Kirkwood Mountain, Heavenly Mountain – also enjoyed a fabulous Wednesday in the powder.
"The conditions are great after receiving 7½ feet of snow at Kirkwood, 6½ feet at Northstar, and more than 6 feet at Heavenly," said Vail spokesperson Stephanie Myers. "There were a lot of happy skiers and snowboarders on the mountain today. It's a great week to use up those sick days (at work), especially as the forecast calls for more snow this weekend."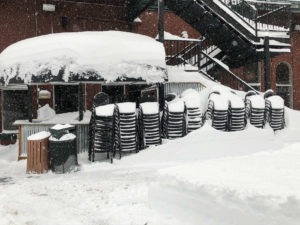 Sierra-at-Tahoe received 90 inches and now has a season-total of 279 inches. Boreal Mountain had a whopping 86 inches from the recent storms, pushing its season total to 307 inches.
More Snow on the Way: There are two weather systems moving into the region, according to OpenSnow California Snow Forecaster, Bryan Allegretto. He's calling for 8-12 inches from the first storm that runs Friday (Feb. 8) through Saturday. A second storm could bring another 1-3 feet by Sunday evening.
TAHOE SNOW REPORT (5-day totals; reported Feb. 6)
Alpine Meadows: 73 inches
Boreal Mountain: 86 inches
Diamond Peak: 67 inches
Heavenly Mountain: 75 inches
Granlibakken: 48 inches
Homewood Mountain: 100 inches
Kirkwood Mountain: 92 inches
Rose: 55 inches
Northstar California: 78 inches
Sierra-at-Tahoe: 90 inches
Soda Springs: 50 inches
Squaw Valley: 84 inches
Sugar Bowl: 80 inches
Tahoe Donner: 68 inches