Ski season is mostly done in Lake Tahoe. However, that means golf season is nearing at premium area courses like Incline Village Golf Courses.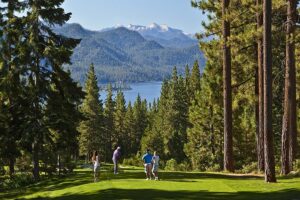 The Incline Village Golf Courses recently announced opening dates for the 2022 golf season.
The Incline Village Championship course will open Friday, May 13, while the Mountain course is expected to open Friday, May 20, conditions permitting on both courses.
The golf courses at Incline Village offer two unique experiences, designed to appeal to all kinds of golfers, including beginners and families.
The Championship course is a public par-72 regulation course with a classic Robert Trent Jones Sr. design that is perennially ranked as one of the top courses in Nevada and Lake Tahoe.
The Mountain course is a public 18-hole par-58 course with an amazing mountain layout designed by Robert Trent Jones Jr. that plays host to a number of social events throughout the season, including Nine Wine (golf and wine tasting events), and also offers 9-hole rates and twilight specials.
Typically, the Mountain course opens a bit later than the Championship course due to the extra maintenance required for the higher-elevation course. It's the highest altitude golf course in the Lake Tahoe Basin and the entire state of Nevada.
The Grille at The Chateau – the restaurant inside the Championship Course clubhouse – will host a soft opening open May 12. It will remain open daily throughout the Championship course's operating season for lunch and happy hour.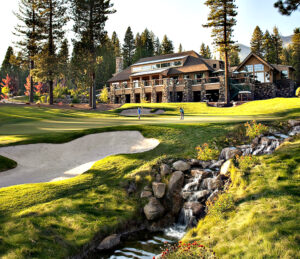 The practice facilities at the Championship Course are scheduled to open on the following dates:
Driving Range: Opened April 3 (10 a.m. to 4 p.m. during preseason operations)
Chipping Green: Opens April 29
Putting Green: Opens May 6
HIGH RANKING BY GOLFERS' CHOICE: The Incline Village Championship Golf course recently received four prestigious rankings on the GolfPass "Golfers' Choice 2022" lists.
With over 320,000 golfers submitting feedback on their favorite courses around the United States, the Incline Village course was ranked No. 17 in the overall "Top 50 U.S. Courses" list; No. 2 in the overall "Top 25 Courses for Best Conditions" list; No. 3 in the overall "Top 25 Golf Course Layouts" list; and No. 3 in the "Best Golf Courses in Nevada" list.
"What an honor it is to be included as one of the top 50 U.S. courses, and to be the top-ranked Lake Tahoe golf course on this list," said Darren Howard, Director of Golf and Community Services for the Incline Village Championship Course. "I have played several of the top 50 courses and we are extremely excited to be included with these great courses."