If Squaw Valley Alpine Meadows is your Tahoe ski resort of choice, it might be time to look at purchasing a season pass for the 2020-21 season.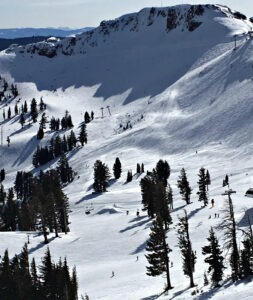 The resort's Ikon Pass went on sale March 5 at its lowest pricing. After debuting in January 2018, the Ikon Pass enters its third season with 41 winter destinations, a new four-day product, and continued passholder benefits.
The Ikon Pass covers Squaw Valley Alpine Meadows and 40 other iconic global mountain destinations across the Americas, Europe, Japan, Australia, and New Zealand.
The pass has a collaboration of industry leaders – Alterra Mountain Company, Aspen Skiing Company, Boyne Resorts, POWDR, Jackson Hole Mountain Resort, Alta Ski Area, Snowbird, Arapahoe Basin Ski Area, SkiBig3, Revelstoke Mountain Resort, Taos Ski Valley, Zermatt, Thredbo, Mt Buller, Niseko United, Valle Nevado, and NZ Ski. Each demonstrates integrity, character and independence that is reflected in their mountains and guests.
"As the Ikon Pass community grows, we are growing with it and are excited to offer skiers and riders around the globe expanded access and more products that offer value, suit their needs, and help them experience the mountains we all love," said Erik Forsell, Chief Marketing Officer, Alterra Mountain Company. "Ikon passholders will use any excuse to get on the mountain, and our 41 destinations are happy to provide endless inspiration for their next adventure."
Below are some new features for next ski season.
Expanded Access at Stratton and Sugarbush Resort: Skiers and riders in Vermont now have unlimited access days to Stratton and Sugarbush Resort on the Ikon Pass and unlimited days with select blackouts on the Ikon Base Pass. The base pass will offer unlimited and up to five days access to 38 destinations. For an additional $150, five days can be added at Jackson Hole Mountain Resort and five days at Aspen Snowmass, with select blackout dates.
Flexible Southern Hemisphere Access: Passholders may now split up their five or seven days across the 2020 and 2021 Southern Hemisphere seasons at Thredbo, Mt Buller, Coronet Peak, The Remarkables, Mt Hutt, and Valle Nevado. Buy now and decide to visit this season, or next, or both.
Ikon Session Pass 4-Day – $399 Adult, Select Blackout Dates: The pass kick starts a season of adventure, ideal for a long weekend or four spontaneous snow days. Passholders lock in four-day access across 30 global Ikon Pass destinations, offering the choice of where and when to ski or ride throughout the 20/21 season. The four days can be used at four different destinations or at one favorite mountain.
Passholder benefits
Renewal Discount: As a thank you to the Ikon Pass community, renewal discounts will be offered to 2019-2020 Ikon Pass and Ikon Base passholders for winter 20/21 if purchased before Wednesday, April 22, 2020 with savings of up to $100.
Spring Access: Ikon Pass and Ikon Base passholders will have immediate access to unlimited spring skiing at Big Bear Mountain Resort, Crystal Mountain, Snowshoe, Stratton and Blue Mountain, valid day of purchase. Starting April 13, 2020, new pass holders will have unlimited spring access at Mammoth Mountain, Squaw Valley Alpine Meadows, Solitude Mountain Resort, Sugarbush Resort, and Winter Park.
Payment Plan: An interest-free payment plan is available for Ikon Pass and Ikon Base Pass if purchased before Wednesday, April 22, 2020 with a $199 deposit and four monthly payments, June – September 2020.
Child Pass Promotion: To provide additional value for families looking to ski and ride together, Ikon Pass holders can purchase up to two discounted Child Ikon Passes or Child Ikon Base Passes for children ages 5-12 with the purchase of an Adult Ikon Pass or Adult Ikon Base Pass. The Child Pass Promotion ends, and prices go up on April 22, 2020.
Night Skiing: Evening skiing is available at Steamboat, Big Bear Mountain Resort, Blue Mountain, Sunday River, Brighton Resort, Snowshoe, Boyne Highlands, Boyne Mountain, Mt. Norquay, Crystal Mountain, The Summit at Snoqualmie, Cypress Mountain, Niseko United, Coronet Peak and Thredbo. Ikon Pass holders get unlimited access to night skiing at Steamboat.
The IKON Pass for adults starts at $899 and $659 for young adults (13-22)
For more information on the IKON Pass, visit https://www.ikonpass.com/.