Blessed with more than 540 inches of snow, the decision to extend the season was not one Homewood Mountain Resort needed to ponder for too long. The family-friendly resort has moved its season-ending date back to Sunday, April 16.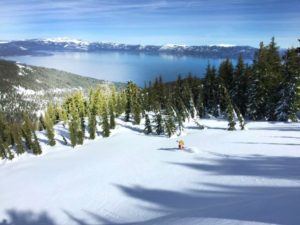 With an historic winter season underway, Homewood Mountain pushed back its closing date by one week. The plans are to run the Madden chair, Old Homewood Express, the Happy Platter and North Carpet from 9 a.m. to 2 p.m. from Monday, April 10 through closing day. Homewood is located on the West Shore of Lake Tahoe.
In addition, thanks to the recent break in storms, Homewood's operations team has been able to rebuild the snowcat access road to the top of Ellis Peak. Homewood Snowcat Adventures will resume this weekend for those interested in enjoying a guided backcountry experience.
Snowcat Adventures
Designed for intermediate and advanced skiers and snowboarders who also love the view of nearby Lake Tahoe (literally across the street), Homewood's snowcat accessed terrain offers guided access to some of the most desirable backcountry terrain on the West Shore of Lake Tahoe. Participants are shuttled via snowcat to the top of Ellis Peak, just above the resort's designated ski area boundary, where they'll find stunning panoramic views of Lake Tahoe and Desolation Wilderness before making their way through over 750 acres of tree runs, steeps, glades, backcountry bowls and fresh snow.
Groups of up to 10 people can enjoy laps of up to 1,828 vertical feet from the top of Ellis Peak to the bottom of Old Homewood Express chairlift. After each run, a short chairlift ride takes participants and their guides back to meet the snowcat for another ride to the top.
"Thanks to the tremendous snowfall we've experienced this winter, those who join us to enjoy the backcountry terrain accessible by Homewood Snowcat Adventures will not be disappointed," said Kevin Mitchell, general manager of Homewood Mountain Resort. "These tours were specifically designed for intermediate and advanced skiers and riders who want the advantages of the backcountry, including access to fresh snow and ungroomed terrain without having to do the work of skinning uphill. We also provide lunch and guides, so guests are sure to stay fueled up and find untouched powder stashes during the course of their day."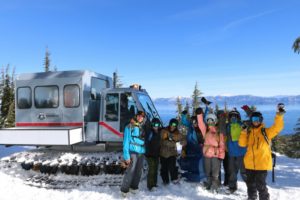 Each Homewood Snowcat Adventures tour is led by experienced backcountry guides with a focus on safety, fun and adventure. The maximum group size is capped at 10 people to ensure plenty of powder runs for everyone, with all participants required to be intermediate or advanced skiers or snowboarders. Private group tours can be arranged in advance with a full buyout.
All-day packages with Homewood Snowcat Adventures, which includes lift access at Homewood Resort, lunch and the snowcat tour, are available for $399 per person, per day. Also included are rental of the required backcountry backpack, shovel, avalanche beacon, and probe, as well as professional guides and instruction related to backcountry safety practices.
Homewood season passholders receive a $100 discount for themselves and friends when the group books together for the same day. Groups or companies interested in a day of guided snowcat touring can also reserve a private adventure. Homewood Resort's demo ski shop also offers powder-specific skis at a special package rate to anyone who books a Snowcat Adventure. For more information, or to a reservation, please call 530.525.2992.
Homewood season passes
Skiers and snowboarders interested in experiencing Homewood Mountain Resort can purchase lift tickets online in advance for the best available price, with tickets starting at $49. Homewood's "Ultimate Pass" is now on sale for the 2017-18 season. Valid all season long with no restrictions or blackout dates, purchase of the Ultimate Pass now also includes free skiing and riding until the end of the current season.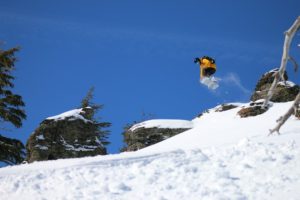 Prices start at $419 for adults (ages 19-61), $379 for teens (ages 13-18), $169 for juniors (ages 5-12), $299 for seniors (ages 62-69), and $259 for super seniors (ages 70+). Unrestricted college passes are also available for $259 to students enrolled at an accredited 2- or 4-year college with 9+ units/credits. School-issued photo ID and copy of course registration required as proof of enrollment. Children under the age of four always ski or ride free at Homewood Mountain Resort.
For ongoing updates and more information, please visit www.skihomewood.com.
Below are scheduled closing dates for Lake Tahoe resorts
Tahoe Donner: April 9
Soda Springs: April 9
Homewood Mountain: April 16
Kirkwood Mountain: April 16
Boreal Mountain: April 16
Donner Ski Ranch: April 17
Granlibakken: April 17
Sugar Bowl: April 23
Sierra-at-Tahoe: April 23
Diamond Peak: April 23
Northstar California: April 23
Heavenly Mountain: April 30
Mt. Rose: May 29
Squaw Valley Alpine Meadows: July 4