Due to current weather conditions, Heavenly Mountain and Northstar California have delayed the opening of the 2021-22 ski season.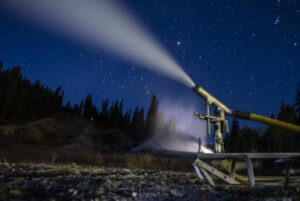 The two Vail Resort properties in Lake Tahoe are pushing back opening day due to recent warmer temperatures across the region.
The original opening date for Heavenly and Northstar was Friday, Nov. 19. A third Vail Resort in Tahoe – Kirkwood Mountain – is scheduled to open Dec. 3.
"We're working hard to get back to snowmaking. Both resorts are carefully monitoring conditions and will share an update on a new target opening day early next week," said Vail spokesperson Sara Roston.
Benefitting from a sizable snowfall in late October, both Palisades Tahoe and Boreal Mountain opened Oct. 29.
However, due to rising temperature and marginal snow conditions, both Boreal and Palisades are currently closed until further notice.
It was only the third time in 72 years of operation that Palisades (formerly Squaw Valley Alpine Meadows) has opened in October.
It was Boreal's earliest opening in 10 years, when the resort started operating its lifts Oct. 28. The earliest opening in resort history was Oct. 9, 2010.
The Northstar and Heavenly snowmaking teams are prepared to fire up the snow guns at every opportunity as weather is predicted to be cooler this week and next. A Vail statement said "our top priority is to provide guests with the best early-season ski and ride experience possible."
The slopes aren't quite ready to ski and ride yet, but sightseeing will begin as planned at Heavenly with the opening of the gondola and Tamarack Lodge on Friday (Nov. 19). The Northstar village also opens Friday.
For more information about Heavenly, visit skiheavenly.com or call (775) 586-7000. For additional information regarding Northstar, visit northstarcalifornia.com or call (530) 466-6784.
TAHOE SKI RESORT OPENINGS
Palisades: Opened October 29
Boreal: Opened October 29
Sugar Bowl: November 26
Tahoe Donner: November 26
Soda Springs: November 28
Kirkwood: December 3
Diamond Peak: December 9
Homewood: December 10
Heavenly: TBA
Northstar: TBA
Mt. Rose: TBA
Sierra-at-Tahoe: TBA