It's starting to feel like ground hog day at Tahoe ski resorts.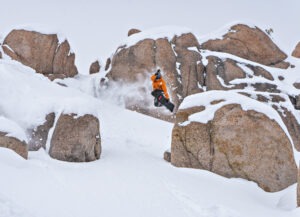 The Tahoe region will be smacked in the face once again by fierce weather conditions, starting early Saturday morning and likely concluding some time early next week.
The National Weather Service (NWS) in Reno has issued two winter advisories and is forecasting up to 7 feet of snow for the mountains around Lake Tahoe through the middle of next week.
The NWS says a storm warning takes place at 4 a.m. Saturday (Jan. 7) and could last for two days. Then the service is predicting another storm following from 4 a.m. Monday through late Tuesday night. Snow is also expected Friday (Jan. 13) through next weekend.
CHECK OUT TAHOE SNOW REPORT BELOW
Much like the snowy conditions that have existed since the last 10 days of December, the winds will be treacherous in the coming days. Winds may gust as high as 90 mph on the Sierra crest, with some areas possibly seeing gusts as high as 120 mph at times.
The NWS warns that mountain travel will be difficult to impossible. Anyone traveling during the storms should be ready to spend many hours in their vehicles and be prepared with extra food, water, clothing and tire chains.
SNOW DAZE: The snow began Thursday and came down hard at times, once again benefitting Tahoe ski resorts by piling up most of the day.
Kirkwood was the big winner, reporting 20 inches Friday morning at its summit. Over the past week, Kirkwood has received 86 inches of snow (more than 7 feet), the most among Tahoe ski resorts.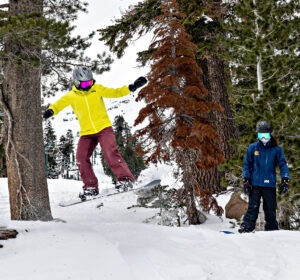 Sugar Bowl was reporting 15 inches Friday morning and both Palisades Tahoe and Sierra-at-Tahoe had 13 inches. Heavenly got 8 inches from the latest storm and has recorded 81 inches over the past week. Sierra has received 79 inches over the past seven days.
POWDER FRIDAY: There was a break in the weather Friday when conditions were pleasant for a change at Tahoe ski resorts.
"Cold temps and partly sunny skies (Friday) made for the perfect day to come and smoke these freshies in this storm window that will last today through part of tomorrow," a message on the Sierra-at-Tahoe website said.
TAHOE SNOW REPORT (January 6)
Kirkwood: 20 inches
Sugar Bowl: 15 inches
Sierra-at-Tahoe: 13 inches
Palisades Tahoe: 13 inches
Boreal: 10 inches
Heavenly: 8 inches
Northstar: 8 inches
Homewood: 7 inches
Soda Springs: 6 inches
Tahoe Donner: 6 inches
Mt. Rose: 4 inches
Diamond Peak: NA
Granlibakken: NA