This will most likely be categorized as the worst ski season ever for Dodge Ridge ski resort, which announced Sunday that it will likely be closing for the season.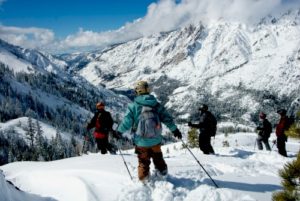 Thanks to a practically nonexistent winter with barely any snow, Dodge Ridge ski resort didn't open this season until Feb. 12, which is believed to be the latest in any season that Dodge Ridge has opened. The resort has a history dating back to 1951.
Unless additional snow arrives, the resort will not reopen, marking its final day as March 16. Unlike many larger ski resorts, Dodge Ridge ski resort does not make snow.
Located in Tuolumne County off Highway 108, Dodge Ridge ski resort is the closest skiing and riding to Bay Area and Central Valley locations. The resort offers 1,600 vertical feet, 12 lifts 67 runs, and 852 acres of skiable terrain.
The Dodge Ridge Mountain Operations department made the official assessment Sunday morning, making the determination that additional snowfall would be required to continue with normal operations.
Though this decision is a difficult one to make with the great conditions still available on the upper mountain, ultimately with a bleak forecast of continued warm weather and no chance of significant snowfall in the Dodge Ridge ski resort felt it was best to close.
With just 159 inches of snowfall on the upper mountain so far and unseasonably warm weather, this season has been a tough battle when an average season would see anywhere from 300 inches or more.  Though operations have been put on a hiatus status, Dodge Ridge ski resort is committed to cranking the lifts up once again this season if they're fortunate enough to have the return of winter.