Not even Covid-19 could stop Dodge Ridge ski resort from moving forward with its 70th anniversary season.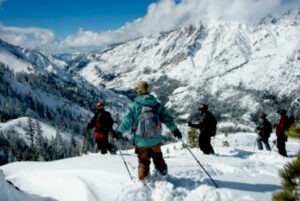 Located in tiny Tuolumne County town of Pinecrest, Dodge Ridge resides off Highway 108 and bills itself as the closest ski resort to the Bay Area and Central Valley locations. The resort offers 1,600 foot vertical drop, 12 lifts and 862 acres of skiable terrain.
Following the region's first significant winter storm of the season, Dodge Ridge's 70th season began December 21, 2020, just in time for the Christmas holidays. The family-friendly ski resort remained open for the rest of the season. It had a nice crowd of skiers and snowboarders for the final day of the season – Sunday, April 11.
Four Lake Tahoe ski resorts also closed April 11 – Sierra-at-Tahoe, Homewood Mountain, Kirkwood Mountain, and Tahoe Donner.
SEE TAHOE SKI RESORT CLOSING DATES BELOW
In response to health concerns, COVID-19 protocols and adjustments at Dodge Ridge were successfully implemented into daily operations and the entire 2020/21 season. This season also saw a significant uptick in visits by new guests. Many Bay Area and Central Valley skiers and riders regularly visited Dodge Ridge and its beautiful setting in the Sierra Nevada Mountains.
Dodge Ridge received over 223 inches for the season – or just under 20 feet of snowfall. While below normal season snow totals, that topped the totals for a number of the Tahoe ski resorts. The last week of January really catapulted Dodge Ridge into winter with 9 feet of snow falling in a five-day period between January 24-29.
Additional winter storms continued to roll through the Sierra in February and March with colder than average temperatures in the teens and 20s delivering nearly 6 feet of snow that was often followed by beautiful blue-sky days at Dodge Ridge.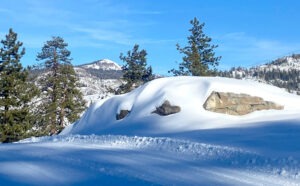 DODGE RIDGE SEASON PASSES: This season came to an end, but Dodge Ridge's Early Bird Season Pass Sale continues for the 2021/22 Season. Through April 30, Adult passes are priced at $379 and pay for themselves in just over four days on the mountain.
Season passes can be purchased online at DodgeRidge.com or by calling Dodge Ridge at (209) 965-3474.
SUMMER OPERATIONS: Turning toward summer, Dodge Ridge will jump right into spring and summer mode by working to open the 12 campgrounds from Pinecrest Lake to Sonora Pass.
Dodge Ridge is targeting an opening date of Saturday, April 17 for both the Fraser Flat Campground and multiple loops of Pinecrest Campground for first-come, first-serve camping. Targeting Saturday for opening will provide camping opportunities in the Sierra, just in time for the California Fishing Season, set to begin Saturday, April 24.
For opening dates and details about the 12 campgrounds that Dodge Ridge manages, visit DodgeRidge.com/campgrounds.
TAHOE SKI RESORT CLOSING DATES
Tahoe Donner: April 11
Sierra-at-Tahoe: April 11
Kirkwood: April 11
Homewood: April 11
Sugar Bowl: April 18
Diamond Peak: April 18
Soda Springs: April 18
Northstar: April 18
Heavenly: April 18
Boreal: April 18
Mt. Rose: April 18
Granlibakken: TBA
Squaw Valley Alpine Meadows: May 31