The Cushing Crossing is arguably the most light-hearted, fun day all season at Squaw Valley Alpine Meadows.
The 29th annual Cushing Crossing takes place Saturday, May 4 at Squaw Valley. Registration begins at 8 a.m. and the event kicks off at 1 p.m.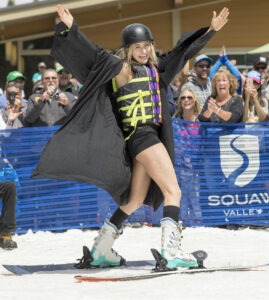 This weekend, Squaw Valley Alpine Meadows will once again host the annual Cushing Crossing pond skim, one of signature spring events for Tahoe ski resorts that draws huge crowds, outrageous costumes and hilarious antics, all in the name of spring skiing fun.
The original pond skimming event ignited a spring resort ritual. Every year Squaw Valley has a celebrity judging panel and amazing emcees for this spring spectacle. Filled with big spills and laughable thrills, this is one spring event that locals don't want to miss.
This Cushing Crossing is believed to be the original pond skimming event that started what is now a spring ritual at ski resorts all across the country. Pond skimming is a contest where contestants attempt to ski across a body of water.
In Squaw Valley's case, that would be the natural Cushing Pond, rather than a manmade trough. Making it to the other side unscathed is the goal. Local skiers wait all year for this event, which is truly a fan-favorite.
This year, 60 contestants will vie for a chance at pond skim glory, along with some amazing prizes from YETI, Oakley and Smartwool. The overall winner will take home a 2019-20 Ikon Pass. Registration is first come first serve, and a unique part of this event is that it pits everyday skiers and riders against elite athletes. But truly anyone has a chance to win.
Former Olympic gold medalist Jonny Moseley will MC the event, and the judge's panel will include some of the biggest names in the ski and snowboard world: Elyse Saugstad, Sammy Luebke, Keely Cashman and AJ Hurt, along with local celebrities Sherry McConkey and JD Hoss.
If you can't make it in person, Squaw Valley Alpine Meadows will be livestreaming the event on our Facebook page, and our video setup will be better than ever, with three camera angles and improved streaming quality.