Reacting to the threat of coronavirus, 12 Tahoe ski resorts have announced closures as of Sunday afternoon.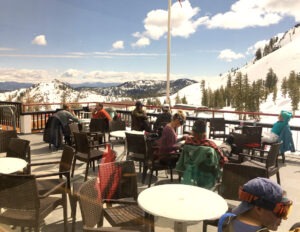 None of the Tahoe ski resorts have reported a positive Coronavirus test by any of its employees. No Tahoe ski resort has announced closing for the rest of the season. Evaluating the remainder of the 2019-20 ski season will be an ongoing process.
Mt. Rose remained open Sunday for skiing and snowboarding. Diamond Peak and Homewood Mountain were also running lifts, but will shut down starting Monday. Homewood will remain closed through March 22, while Diamond Peak is closed through Friday while evaluating any further closures.
"Wild times around here. We are closed for now," Sugar Bowl spokesperson Jon Slaughter wrote in an email Sunday morning at a deserted ski resort. "We have suspended operations due to the impacts from COVID-19 (Coronavirus). We will continue to monitor the situation and hope to reopen this season if the circumstances allow."
Slaughter's statement reflects the feelings among most Tahoe ski resorts. Sugar Bowl is among 10 Tahoe ski resorts that were closed Sunday despite the huge snow totals they were reporting in the morning. Diamond Peak and the Homewood closures will bring the total to 12 resorts that will be closed as of Monday.
The closures didn't keep skiers and snowboarders off the slopes Sunday. Located on Tahoe's west shore, Homewood received 33 inches of new snow over the past 24-hour period. According to a Homewood spokesperson, the resort was crowded and had to close ticket sales at the window and online.
Family-friendly Diamond Peak is located in Incline Village. It opened Sunday with 28 inches and a powder awaiting skiers and riders.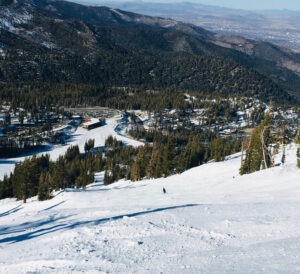 "This was a very difficult decision, especially with a significant snowstorm falling on the Sierra this week. But the health and safety of our residents, visitors, and employees is paramount," said General Manager Mike Bandelin. "We will continue to track the COVID-19 situation and inform the community if things change."
Mt. Rose, located in Nevada near Incline Village, was reporting 23 inches of new snow on a crowded Sunday with lift lines. The coronavirus fear didn't appear to keep skiers and riders from enjoying one of the rare powder days in the 2019-20 ski season. According to a resort employee, Mt. Rose continues to assess the situation, but for now it still has plans to stay open through April 26.
Among the resorts announcing closures that began Sunday were the three Vail Resorts in Tahoe – Northstar, Heavenly, Kirkwood – Squaw Valley Alpine Meadows, Sugar Bowl, Tahoe Donner and Sierra-at-Tahoe. Sierra was the last of eight Tahoe ski resorts on Saturday to announce its closing, starting Sunday for just a 72-hour period, followed by an evaluation of future plans.
"We would like to apologize for the short notice of this announcement, and any inconvenience it may pose to you at this time," stated a Sierra-at-Tahoe press release. "We realize that you have many questions and that this news may be disappointing for you to hear – with snow in the forecast, the excitement and joy of a powder day seemed to be just what we all needed. We aim to resume operations under sunnier skies with powder-covered slopes."
Two of Tahoe's smaller resorts – Boreal Mountain and Soda Springs – announced their closing on its websites. The two Powdr Corporation-owned resorts are suspending operations through March 22. Closures include all lift operations, food and beverage, retail and rental services, winter activities and snowsports, as well as all Woodward Tahoe and Bunker operations.
The large number of closures will no doubt be extremely disappointing to Tahoe ski and snowboarder passholders who frequent the Tahoe ski resorts. A huge storm began Friday night and is expected to dump up to five feet of snow to Tahoe ski resorts by Monday morning (March 16). And more snow will arrive next week as well.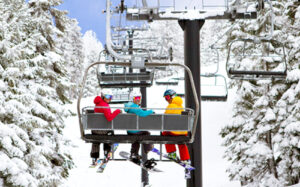 The snow could be part of a "Miracle March" that finally brings some powder days to Tahoe ski resorts, who have experienced a poor season in terms of snow totals. Following a good start to the season with lots of December snow, it snowed a few times in January and zero times in February as spring-like conditions became the norm over the past month or more.
TAHOE SKI RESORT CLOSINGS (reported March 15)
Mt. Rose: Open
Homewood Mountain: Open today, closed through March 22
Diamond Peak: Open today, closed through March 20
Squaw Valley: Closed until TBA
Alpine Meadows: Closed until TBA
Heavenly Mountain: Closed through March 22
Kirkwood Mountain: Closed through March 22
Northstar California: Closed through March 22
Sierra-at-Tahoe: Closed through March 17
Sugar Bowl: Closed until TBA
Boreal Mountain: Closed through March 22
Soda Springs: Closed through March 22
Tahoe Donner: Closed through March 31