Despite the lack of snow, Tahoe ski resorts still have good conditions for skiing and snowboarding.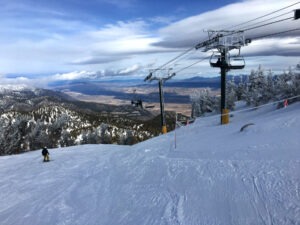 That's the news this week coming out of Tahoe ski resorts. The nine Tahoe ski resorts contacted here unanimously say snow coverage is still substantial, even though there has been no snowfall in February and the forecast isn't calling for any significant snow the remainder of the month.
To the dismay of skiers and riders, there has been just one legitimate powder day in 2020 and tree skiing is a bit of a gamble because it's typically slick. But the majority of chair lifts are running and groomers have provided some solid skiing and riding for the past two months as Tahoe ski resorts head toward March.
Mt. Rose ski resort in Nevada (near North Lake Tahoe) has a typical response in terms of snow quality.
"Mt. Rose has been holding up great. Our grooming crew is doing a bang-up job, keeping the whole mountain in primo shape," Mt. Rose spokesperson Mike Pierce said. "Yes, off-piste is skiing a little firm in the mornings, but besides that Mt. Rose continues to be one of the best choices for quality snow in Tahoe."
Look back at Februburied: As of Wednesday (Feb. 19), snowpack levels across the Sierra Nevada range stood at just 52 percent of normal for the date, according to the Department of Water Resources. What a contrast to a year ago when the snow kept coming in bunches, leading to the term "Februburied."
Squaw Valley received the most February snow of any Tahoe ski resort, setting an astonishing resort record of 313 inches, shattering its previous mark for most snow in a month. Squaw Valley had received 570 inches of snowfall as of March 1. This year, only two resorts have season totals of more than 200 inches – Squaw (207), Sierra-at-Tahoe (204).
"We've got a base depth of more than 7 feet on the upper mountains, and of about 3 to 3½ feet at the bases of Squaw and Alpine," said resort spokesperson Alex Spychalsky. "Since temperatures are staying low overnight, we are in that classic spring melt-freeze cycle, so first runs of the day are best taken on groomers. But once the snow starts to warm up under the sun, the corn skiing has been great."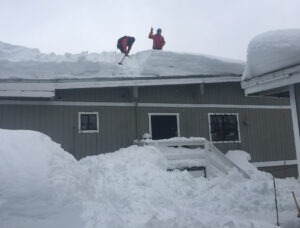 Closing dates won't change: Solid coverage should not alter the closing dates of the nine Tahoe ski resorts contacted here. They unanimously stated that closing dates – the majority happen by mid-April – should not be moved up.
"We are not anticipating having to close any earlier than budgeted," said Sugar Bowl spokesperson Jon Slaughter. "Our planned closing day is April 12 and I expect we will be sticking to it. It's going to snow in March and freshen things up … it always does."
What's up with Snowmaking? In an ideal season, the snowmaking equipment has been put away and isn't be needed. That was the case a year ago when every Tahoe resort was far exceeding its annual ski totals by the end of February and many of them extended the season, including Squaw which closed on July 7.
During February 2019, Northstar received 286 inches of snow, Kirkwood had 271 inches and Heavenly's monthly total was 269 inches. This season's snow totals are way down (SEE TOTALS BELOW).
For the 2019-20 season, several resorts – Squaw Valley, Alpine Meadows, Diamond Peak – have been strategically making snow. Because evening temperatures have regularly dropped below the freezing mark, selected areas are chosen for snowmaking.
Diamond Peak, located in Incline Village, has been utilizing its Pistenbully's SNOWsat snow depth monitoring system. The technology gives the Diamond Peak grooming team the ability to monitor snow depth levels below their snow cats in real time during grooming, which allows them to move snow around from one area to another area that might need more coverage.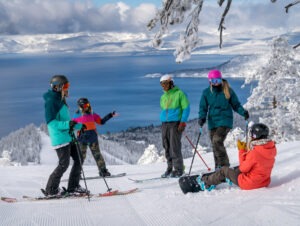 "Diamond Peak has been strategically making new snow in February when conditions permit, utilizing our high-efficiency fan guns to add snow to areas that may need a little extra," said Paul Raymore, resort spokesperson. "Despite the perception out there due to the extended dry period we've seen in Tahoe, the snowpack is actually holding up very well on the slopes of Diamond Peak."
Abundance of Bluebird days: Regardless if resorts are making snow or not, skiing Lake Tahoe remains good. A recent trip to Sierra-at-Tahoe found the groomers in excellent shape from mid-morning until closing time on an ideal bluebird day. The popular Vail Resorts – Heavenly, Kirkwood, Northstar – are all reporting good crowds and expect that to continue into March and early April.
"Skiers and snowboarders are having fun. I was just out the other day at Kirkwood and had an awesome day," said Vail Resorts spokesperson Joanna McWilliams. "The sun was shining and the runs were groomed to perfection. Heavenly, Northstar and Kirkwood will each have terrain open until their closing dates in April."
SNOW REPORT (season totals, Feb. 21)
Squaw Valley: 207 inches
Sierra-at-Tahoe: 204 inches
Alpine Meadows: 198 inches
Northstar California: 197 inches
Boreal Mountain: 196 inches
Sugar Bowl: 194 inches
Kirkwood Mountain: 192 inches
Soda Springs: 192 inches
Heavenly Mountain: 183 inches
Mt. Rose: 178 inches
Homewood Mountain: 166 inches
Diamond Peak: 113 inches
Tahoe Donner: 111