Popular NBA Hall of Fame basketball player and TNT analyst Charles Barkley will once again be among the field at this year's 26th annual American Century Championship in South Lake Tahoe.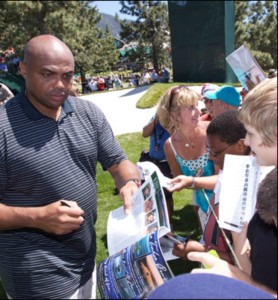 Although he's typically a fan favorite, there's little chance that Barkley and his erratic and somewhat comical golf game will be among the leaders. "Sir Charles" will appear in his 17th American Century Championship and is listed as a 5000/1 shot to win the tournament.
The American Century Championship is set for July 17-19 at beautiful Edgewood Tahoe Golf Course, located on the shores of Lake Tahoe near the major casinos in Stateline, Nev. The 54-hole event, televised nationally by NBC (Saturday, Sunday) and NBC Sports Network (Friday), features a celebrity field of 80-plus sports and entertainment stars competing for $600,000 in prize money. The Golf Channel will provide additional coverage.
Other prominent names expected at Lake Tahoe are current and former NFL stars, Aaron Rodgers, John Elway, Tim Brown, Jerome Bettis, Chris Collinsworth and Herm Edwards. Other notable players include Golden State Warriors coach Steve Kerr, Steve Spurrier, John Smoltz, Roger Clemens, Ray Allen, Bode Miller, Larry the Cable Guy, Anthony Anderson, Jerry Rice and defending champion Mark Rypien.
Another featured player is Trent Dilfer, a former NFL quarterback with the Tampa Bay Buccaneers, Seattle Seahawks, Cleveland Browns, San Francisco 49ers and Baltimore Ravens, where he won Super Bowl XXXV.  He is currently an ESPN/NFL analyst and annual contender at the American Century Championship.
Also in the field will be Chad Pfeifer, an Iraq War veteran who is a three-time champion of the George W. Bush Warrior Open despite the loss of his left leg in an IED explosion in Iraq. He is a former three-sport high school athlete and Division I college baseball player who took up golf while rehabilitating from his leg amputation and is now a national class, scratch-handicap player.
In his tournament debut in 2014, Pfeifer led the field after day one and finished fifth overall. He is also among the favorites at 12/1 to win.
Visit www.tahoecelebritygolf.com for more information on the event.
Jeffrey Weidel can be reached at skiweidel@gmail.com. Thanks for visiting his winter website at www.tahoeskiworld.com