A fall tradition continues at Camp Richardson in Lake Tahoe, which will host the 24th annual Oktoberfest on Oct. 6-7.
The Camp Richardson Historic Resort and Marina's Oktoberfest will include more of everything – more food choices, beverages, and kids' activities. The two-day festival runs 10 a.m. to 5 p.m. daily. Entrance and parking for the event are free. All festival tickets for food and beverage booths, pumpkin patch and kids' inflatable activities must be purchased with cash at the ticket booths – www.camprichardson.com/oktoberfest.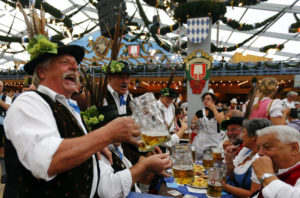 Festival goers are encouraged to take advantage of the free bike valet in front of the Mountain Sports Center. Bikers will receive an ice cream coupon for the resort's ice cream parlor when they valet their bikes. Free parking is available in the resort's Eagles Nest campground on paved sites.
The festival is debuting a new layout and ticket booths will be placed in front of the festival entrance for ease of purchase.
Camp Richardson's beer garden will be fully stocked with Oktoberfest and fall-inspired brews, including two local brews from 50/50 Brewing Company and Alibi. Festival goers can choose from German Spaten, Sam Adams Octoberfest, Deschutes Hopzeit, St Archer German Ale, Ninkasi Oktoberfest, Drakes Hefeweizen, 50/50 Oktoberfest and Alibi Pilsner. The festival will also offer Crispin Cider and a choice of three wines for purchase.
In addition to the German inspired IPA infused brats and sausages, food choices will include roasted quarter chicken, Lager stew with bread bowl, strudel, and iced chocolate brownies with cherry preserves.
Camp Richardson's ode to the Munich festival is well known for its range of family-friendly activities from face painting and balloon art to bounce houses. This year there will be new inflatable games, including a basketball and football game for the children.
The "Gruber Family Band" will play live polka music both days and will be accompanied by Marcia Sarosik's dancers from Lake Tahoe Shining Stars on Sunday.
Popular festival events include Sunday's bratwurst eating contest. Interested contestants need to sign up by 1:30 p.m. at the pumpkin patch. The showdown takes place at 3 p.m. on the main stage. Lederhosen are optional but encouraged.
Other contests during the two-day festival range from beer stein holding to yodeling and costume contests for dogs and their owners. Winners receive gift certificates for food, activities and lodging at the resort.
Vendor row will include many handcrafted and made in Tahoe choices like Tahoe Nevada Love, Gina's Face Painting, Inspired Balloons, Tahoe Henna, Sierra Essentials, and RISE design apparel and hats.
For information on recreation, equipment rentals, lodging and packages visit www.CampRichardson.com or call 800 544-1801.