By Duane Allen
A helmet can be one of the most important pieces of gear when skiing or snowboarding. Helmets provide safety and warmth to the wearer, and have been built and tested to prevent injury and in extreme cases, save lives.
Ski and snowboard helmets are made tough to withstand harsh winter elements like ice, but can also be extremely functional and stylish.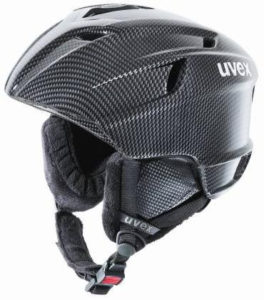 Below are some guidelines to helmet elements and as sizing strategies to use when shopping for a winter sports helmet.
Shell: The outer component of a ski or snowboard helmet is called the shell, and is typically made of a very hard, high-impact plastic. This plastic helps protect the head against sharp objects and abrasions.
The hard exterior of the helmet acts as the first line of defense when you come in contact with something during your winter sports activity, so ensure the helmet you choose has been tested and certified.
Inner Liner: The inside of a helmet is typically made of EPS, or expanded polystyrene foam.  Another important component of the helmet, this tough, closed-cell foam is designed to minimize impact to the head and prevent brain injuries from occurring.
Size: To find a helmet that will fit your head best, measure the circumference of your head with a measuring tape. Position the tape about 1 inch above your eyebrows and ears to ensure you are measuring the widest part of your head. Compare your measurements with sizing charts (online or on the helmet packaging) to find the size that will work best for you.
Fit: A ski or snowboard helmet should be snug, but night extremely tight. As a test, shake your head from side to side. If the helmet shifts, try a smaller size. The chin-strap should fit against the back of your throat without being too restricting or tight.
Design: Ski and snowboard helmets come in a variety of colors and styles. You can even add your own personal style by adding sticker decals. Helmets are often easily customizable, so get creative when choosing a design for your helmet.
Additions & Special Features: Some helmets come with extra features for added convenience and comfort. For instance, some helmets come equipped with detachable ear pads and liners, while others have headphone speakers built into the helmet so you can listen to music while you ride. Your personal preference will determine the accessories that your helmet comes equipped with.
To find a ski or snowboard helmet that is right for you, check out the selection of helmets at The Ski Bum. With industry leading brands and top rated products, you are sure to be safe but stylish on the slopes.
A winter sport enthusiast, Duane Allen is passionate about skiing and snowboarding all year round. He has worked in the ski and snowboard industry since 1974 and prides himself on his ski knowledge and ability. Duane is the co-owner The Ski Bum ski shops, which has two locations in Glen Mills, PA, and Newark, DE.